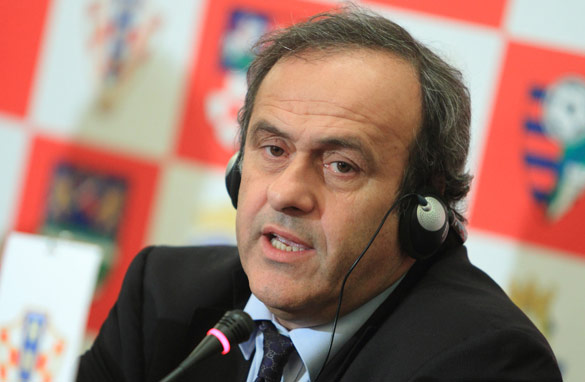 Now we know why the football hierarchy is all fingers and thumbs when it comes to making delicate decisions about the game - the boys spend much of their spare time in the fantasy football world of Sony PlayStation.
Michel Platini's fears that introducing goal-line technology would lead to "PlayStation football" is the second time in a week that a top football figure has drawn an analogy between the real game and a video game.
However, while Platini made a negative connection, Chelsea boss Carlo Ancelotti, in describing in-form striker Florent Malouda, as a "PlayStation footballer", inferred that the Frenchman's similarity to the mini-me version of himself was a good thing, and I have to agree with him.
Before I continue, I must confess that I don't own a PlayStation, though I do have a Wii, and routinely get thrashed by my 10-year-old son on his FIFA Soccer game, even though he plays kick and rush and I take the tiki-taka approach favored by Spain and copied, with varying degrees of success, by my home-town club, Arsenal. Shoot, why don't you!
Anyway, suffice to say that while I'm not much of a gamer, I understand the principles of gaming when it comes to soccer, and I'm therefore bemused by Platini's rejection of goal-line technology on the basis that it would make real officiating more like the PlayStation version. And here are the reasons why:
Unlike a real life ref, adjudication in a video game is not subjective. The virtual reality ref is never unsighted. He (if indeed it can be described as a he) is always up with play. He never gets winded and remains on the ball throughout normal time, extra time, penalties, and indeed replays, of which there are many in my house as Dads have egos too you know.
A video ref is never influenced by the crowd or the fame of the players he's refereeing, nor intimidated by the status of the coach. A player's reputation never goes before him, as the virtual ref treats everyone the same, be they a Nigel de Jong style tackler or a fleet-footed Lionel Messi clone.
He's also oblivious to the importance of the game and feels no more pressure officiating the World Cup Final between Brazil and England (I can dream can't I?) than he does taking charge of a friendly between Bowlegged Wanderers and Twinkle Toes United.
A video ref is never conned by a diver. He's unconcerned with intent, and doesn't award spurious penalties based on a whim.
And, of course, he never needs to confer with his assistant, who may or may not have been 50 meters behind the play or distracted by a fan in the front row questioning his parentage.
He's also consistent in his decision making - the rules are the rules, the electronics are the electronics, end of story.
What's more, to endorse his decisions in the event of a goal, video games have an instant replay facility so there can be no Frank Lampard-style faux pas.
In short, a PlayStation ref is perfect, while a real life ref, even if there's more than one of them, is not. So Platini's negative analogy is questionable, unless he's got shares in Xbox that is.