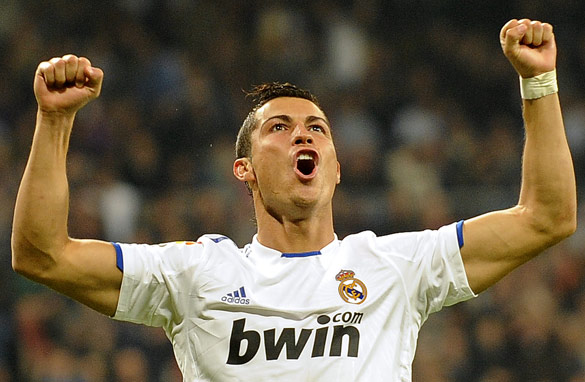 Cristiano Ronaldo celebrates another goal-scoring performance for Real Madrid.
A lean, mean scoring machine. That is what Real Madrid have turned into over the last few weeks. Even though Jose Mourinho has moved to dampen expectations in his first season at the Bernabeu, it looks as though this team could win it all.
Do you remember when Real were criticized for being defensive and boring after they managed to score only nine goals in the first seven matches of the season? Well since then, they have hit the back of the net a whopping 18 times in the last four games! Right now Los Blancos are simply irresistible.
So what has changed at the Santiago Bernabeu and why have they been so quick to fire on all cylinders? It´s quite simple. It all comes down to hard work and discipline.
Expectations at Real Madrid are always high. Sometimes unreasonably high. Just ask Vicente del Bosque and Fabio Capello, both of whom were pushed out of the club after winning the Champions League and Primera Division respectively.
It´s not enough to triumph. You have to do it with style. When Mourinho walked into the Bernabeu´s front door he warned the fans and the president, in a press conference, that it would take at least a season for the team to reach its potential. A pre-emptive strike which worked wonders. The first few games were mediocre, but the warning shot had been fired. Therefore, the team did not face a barrage of criticism. Mourinho was questioned, but the tone was far from belligerent.
The truth is that it has taken a lot less than one whole season for Real to start firing on all cylinders. As a matter of fact, it is hard to imagine them playing much better than they are now. They brushed Milan aside with ease and have smashed a combined 12 goals past Deportivo and Racing. Mediocre teams, but teams that in the recent past have given the Merengues some trouble.
So onto the hard work and discipline. First of all, it is clear to see Mourinho has found his starting XI. Even though the performances in the first few games were far from impressive, he has stuck with the same players game in and game out. Therefore, these 11 players have assimilated his playing style and tactics very quickly.
Some reserves like Pedro Leon, Karim Benzema and Lassana Diarra have had some minutes, but there is no rotation right now. And the Special One has already stated that he will not take the upcoming Copa del Rey match lightly. Last season Real lost to a third division side, and on Sunday Mourinho fired "If you repeat last year´s performance against Alcorcon, you are dead!"
There has been industry from the players as well. Starting with Cristiano Ronaldo, who continues to mature as a player with every game he plays. His productivity is quite staggering. After the four goals scored this weekend, the Portugal international has 44 in 46 games for Real Madrid since he signed before the 2009-10 season. That is the best record ever at the club. Better than the goalscoring ratios of Raul, Di Stefano, Hugo Sanchez in their first 50 games for Los Blancos. Simply spectacular.
Another player that has to be praised is Mesut Ozil. The play-maker had already shown during his last season at Werder Bremen and at the World Cup that he had the potential to be a star, and he is now delivering for Real. Protected by two strong defensive midfielders, Sami Khedira and Xabi Alonso, the 22 year-old has set the rhythm for his side. An impressive feat for someone who must still be adapting to a new league, language and culture.
So how far can Real go? It may still be early but if they continue in this vein of form, they will challenge for every honor. And then, Mr. Mourinho, it will be hard to contain those expectations of immediate success ...