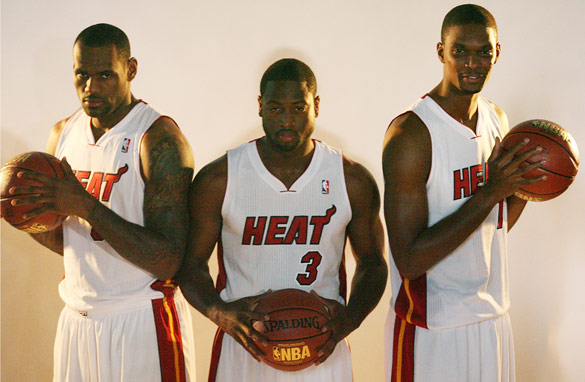 (From left to right) LeBron James, Dwayne Wade and Chris Bosh form a formidable trio for the Miami Heat this season.
The new NBA season tips off on October 26 with a mouth-watering clash as the new-look Miami Heat visit the Boston Celtics. That game will be a fitting opening to what is arguably the most anticipated basketball season since Michael Jordan retired from the Chicago Bulls back in 1998.
During the off-season, the Heat pulled off perhaps the greatest coup in the history of the league by re-signing Dwyane Wade and acquiring free agents LeBron James and Chris Bosh from the Cleveland Cavaliers and Toronto Raptors respectively.
It wouldn't be a stretch to say that Wade and LeBron are two of the top-three players in basketball alongside the L.A. Lakers' Kobe Bryant. Add to the duo a top-five big man in Bosh, and the Heat have all the ingredients to not only compete for multiple championships over the next five years, but even challenge the all-time single season wins mark of 72 set by the Bulls in 1996.