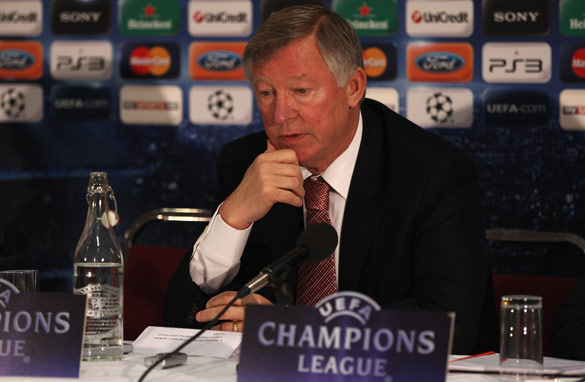 Alex Ferguson may have played a masterstroke with his handling of the Rooney affair.
So it was all a storm in a tea cup. A little tantrum. A cry for attention. Call it what you will, but Wayne Rooney's dramatic about-face over his decision not to sign a new deal with Manchester United caught us all on the hop and left this particular journalist dumbfounded as to why his dirty laundry was ever aired in public.
A day ago Wayne Rooney was on his way to becoming a pariah at Old Trafford, not just for rejecting the offer of a new contract, but for damning the club as un-ambitious and a spent force in terms of its ability to sign big name players and win major trophies.
Wazza was on his way to Real Madrid, Manchester City, Barcelona, or Chelsea, take your pick, and was destined to be a target for the Red Devils' boo boys for the rest of his career.
So what happened? Did Sir Alex Ferguson, already earmarked as "a genius" by Rooney in the midst of all the kerfuffle, work his magic again? Well that's what Wazza says, though can we believe him after the schizophrenics of the last few days?
"I said on Wednesday the manager's a genius and it's his belief and support that convinced me to stay." Rooney said. "I'm delighted to sign another deal at United. I've spoken to the manager and the owners and they've convinced me this where I belong."
"I am signing a new deal in the absolute belief that the management, coaching staff, board and owners are totally committed to making sure United maintains its proud winning history – which is the reason I joined the club in the first place."
Uhm, excuse me Wazza, but didn't you have the same conversation before announcing your departure? And didn't you then draw exactly the opposite conclusions? And if you were so undecided about your feelings why not keep quiet about it? After all, your current contract isn't up until the summer of 2012 so you had time.
Here's what I think happened, and this is pure speculation just for the fun of it, Rooney got played.
I don't believe for a second that he's changed his mind about United. I think his initial conclusions about the club's lack of ambition and ability to attract top players were wrong, but I firmly believe that's what he thought, and that's what he still thinks ( or will once he lays down in bed tonight and actually starts thinking).
I also think Sir Alex Ferguson knew that Rooney's mind was made up. But that's when Fergie boxed clever. Instead of going on an obvious offensive, giving Wazza the infamous "hairdryer" treatment in public, Fergie acted wounded and bemused, appealing to Rooney's better nature.
Every parent will recognize the "Son, after all I've done for you, what have I done to deserve this?" shtick. Well, I say every parent, but Rooney's son is only a baby so obviously he won't have had need for that trick yet. Regardless, it's a common ruse and it worked on Wazza, introducing a bit of guilt into the equation.
Fergie then played another master stroke, describing the Rooney situation as "a bagatelle", which means something trivial, and stressing that the most important thing is not the whims of one player but the club itself, notably, its next game with Stoke City.
That surely left Rooney's obvious sense of self importance deflated, and, by stressing the club above all else, Fergie opened the door for the loyal United fans to weigh in with their damning comments about their former hero's behavior. And they did, in droves on this website and on sites around the world.
So you see Fergie barely had to lift a finger in heaping more guilt than he could handle on Rooney's shoulders, and his softly, softly approach, that essentially allowed others and Rooney's conscience to do the dirty work, has paid off.
He's inked a five-year deal and, what's more, will be more motivated than ever to perform by way of an apology to the fans and his team-mates for the shenanigans of the last few days.
Fergie you ARE a genius.