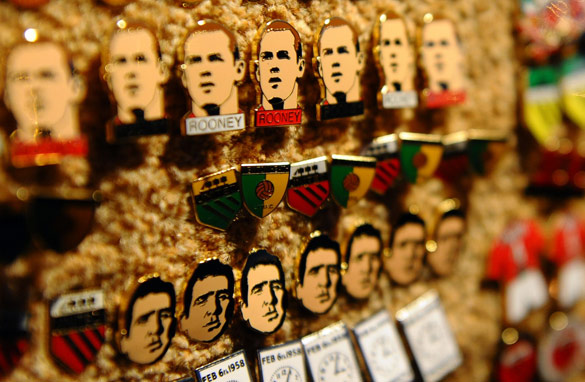 Wayne Rooney has become a hero for Manchester United fans since he arrived at the club in 2004.
A few years back there was an evergreen Manchester United striker called Ole Gunnar Solskjaer. The fresh-faced Norwegian went by the nickname of "The Baby-Faced Assassin" due to his penchant for scoring killer goals and youthful good looks.
Well, may I introduce his evil step-brother, Wayne Rooney, "The Pug-Faced Assassin", who's just driven a stake through the heart of his Manchester United boss, his Manchester United teammates, and Manchester United fans worldwide.
Rooney's unexpected desire to leave Old Trafford was surprising enough, but his reasons for wanting to quit are truly jaw dropping.
To paraphrase the essence of his statement, Manchester United, the most decorated club in England in the last 20 years, is not ambitious enough, and his teammates, assembled at a cost of millions of dollars and with the help of one of the finest scouting systems and youth academies in the world, are not good enough!
Talk about sticking the boot in. It's one thing to want-away from a club, but, if this is the best Rooney could concoct by way of a diplomatic argument, then he's got a new career as a shock jock ahead of him.
I mean, come on Wazza, you're talking about the most successful, most watched team in the most watched league in the world. The same club and manager that transformed you from a raw youngster into the multi-million dollar thoroughbred you're best known as today. Have a little respect, and, if not, maybe a little tact.
Yes, United are going through a transitional period. Alex Ferguson told me as much when we spoke during United's pre-season tour of the USA. However, he also said that a club like United is constantly evolving. What's more, he believes there's a string of young talent coming through, and no restriction on him from the owners when it comes to the transfer market, despite the fact that the club is deep in debt.
Of course, he also said he wouldn't pay silly money for a player, and he wasn't that adventurous in his transfer dealings during the close season. However, he's of the mind that buying the right player at the right price is the more prudent strategy, (in marked contrast to the club on the other side of Manchester, I might add, which can afford to take a scatter-gun approach to the players it buys).
As Fergie himself stated on Wednesday: "A player [who subsequently left the club] said to me [in 2004] Wayne Rooney and Cristiano Ronaldo were not good enough and he wasn't prepared to wait.
"That is the problem with potential. People don't identify potential. We are very good at it. I have identified it all my life. I know potential. I know where it can be developed and how to develop it. I have faith in it."
Obviously, there's no doubt United are currently not the side they've been in the past, and have squandered points against supposedly lesser opposition in the Premier League and European Champions League. However, to imply that they're a spent force and complacent to boot is outrageous.
Prior to his statement, I had a bit of sympathy for Rooney. He's had a frustrating start to the season. And, though he rose to the challenge of being the main man last year following the departure of Ronaldo, he's understandably unhappy at carrying the burden of expectation once again during this campaign.
In addition, he's had to deal with a lot of flak in the media over his personal life. Largely self-inflicted flak, I'll grant you, but no less draining for that. So, you can see how the man might be a bit down in the dumps and negative.
However, with this statement, what he's saying is that his mindset is not the product of a few depressing weeks but a considered and long-term assessment of United's ability to live up to the standards of Wayne Rooney! In short, he's saying "I am bigger than the club". That, of course, would be fine if he played for no-name Rovers, but when you play for Manchester United it's nothing more than pure undiluted arrogance, and it would be surprising if the club and its fans see it as anything less.