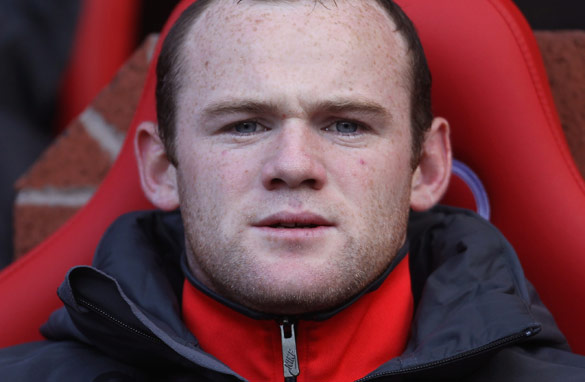 According to Manchester United boss Alex Ferguson, England striker Wayne Rooney wants to leave the Old Trafford club.
The news that Wayne Rooney wants to leave Manchester United could hardly have been a more surprising story. The England striker, who had previously seemed so happy at Old Trafford, has apparently become tired with the team with which he won the European Champions League and numerous English titles and is keen to find pastures new.
The fact that United - one of the world's most famous clubs - are now resigned to losing their most prized asset against the will of the manager is not a situation they are used to.
Alex Ferguson's press conference - in which he told the world of his disappointment - was remarkable for a number of reasons and spoke volumes about his feelings on the matter.
It is rare that one of the most successful managers in British football is anything other than efficient in his dealings with the press; but in front of reporters he was open, candid and loquacious. Fergie even showed an emotional side, which though controlled, is not often seen.
He spoke of his shock and disappointment that after all the club had done for Rooney, the striker was choosing to bid farewell, without giving a reason why or having approached contract negotiations.
There are a number of speculative possibilities which may have forced the move: a rift between manager and player, an opportunity to earn more and win more at another club, or as a way of escaping the media heat that has followed the revelations regarding his private life.
Ferguson contested many of the above, denying there had been a fall out and maintaining the club had only supported the besieged goal-getter through what has been a headline-making couple of months.
He also countered that United could match any money being offered by rivals if that was Rooney's concern. What is clear is that these arguments fell on deaf ears when given to the man in question.
The reality is that in Manchester City and Chelsea, there are maybe far more lucrative offers available along with squads that have more chance of gaining silverware. It has been a strange start to the season in the Premier League and maybe Rooney has anticipated, and plans to capitalize on, an emerging power shift among the top four?
Like David Beckham and Cristiano Ronaldo before him, maybe it is the call of the Bernabeu that has proved too much? Though the Spanish club have been keen to quell rumors of interest, they will be all too aware that a Rooney-Ronaldo combination has won a Champions League before. Rooney can also sell shirts with the best of the Galacticos.
The move would also solve the need for some space away from the ever-salacious British press and would pair him with a coach, in Jose Mourinho, who speaks English - surely a must if the striker is to ply his trade abroad.
The speculation will continue until Rooney clarifies his situation, especially now that the canny Ferguson has put the ball back into his court. But as to who will benefit more from the decision is another question.
Rooney risks trumping Luis Figo in the league of "world soccer's taboo transfers" if he moves to United's rivals City, and is not the first person that jumps to mind when thinking of someone who will adapt well to foreign climes. The challenge to remain on top of his game whilst keeping his reputation intact will be tough. Not least because he has now left two clubs in acrimonious circumstances - the club he supported as a child, Everton, being the other.
Similarly, United too face an uncertain future without the player who has been their talisman over recent campaigns. With an aging squad and stuttering early season form poor, Ferguson will need to invest quickly any finance that is raised from a Rooney sale to avoid further damage to his side's competitiveness.
Ultimately, it is Rooney who made the decision and only Rooney who can determine what his future will bring. But now the die is cast, he will have his fingers crossed his gamble pays off.