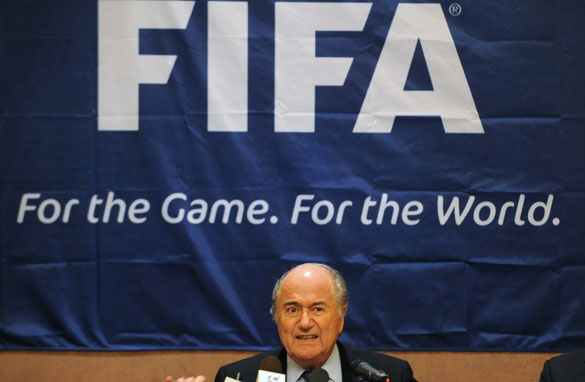 Members of the FIFA executive committee, of which Sepp Blatter is president, have been accused of selling their votes of the 2018 and 2022 World Cup election in December.
The news that two FIFA executive committee members allegedly considered selling their votes for the 2018 and 2022 World Cup election came as a surprise to many and, if proven true, will be highly corrosive for the game in general.
The game of football generates passion around the world like no other sport and its reputation is rightly guarded by those who are in charge. FIFA president Sepp Blatter's concern over the severity of such accusations was evident by his release of an open letter to the world's media, where he sought to quell anxiety over the legitimacy of the current voting process.
It is a crucial time for world football's governing body, with the announcement of the winning bid for the 2018 and 2022 World Cup scheduled for 2 December. Consequently the sport will be keen to show that it is not subject to the same sort of corruption that has blighted other areas of sporting competition.
The 2002 Salt Lake City Winter Games scandal - in which a senior member of the U.S. Olympic Committee resigned over allegations of taking cash for votes - tainted the image of the movement as a whole. The recent cries of foul play concerning the conduct of Pakistani cricketers in a Test match with England - though still yet to be proven - have, rightly or wrongly, similarly left a cloud of doubt hanging over the legitimacy of other cricket matches.
The fact that some FIFA executive committee members live in developing countries, where salary disparity can make the accepting of large sums of money in return for a vote more appealing, is not an argument that can ever hold weight; their role is to be an ambassador for the good of the game, nothing else.
Let's be honest, the abuse of office by those in power to ensure personal 'projects' are successful has happened since the beginning of time, but if it is shown that such practices are taking place at the highest levels of FIFA's organization then drastic measures need to be taken.
In this case, Mr. Blatter should consider the following course of action:
1) Ban both executive committee members for life
2) Hold an emergency meeting with all executive committee members before the World Cup vote in December.
3) Increase the power and the reach of the ethics committee, encouraging it to randomly visit and audit its executive members
4) Introduce a five-year term for executive committee members
5) Where possible and appropriate, increase the salaries of executive committee members in order to reduce their need to look for extra sources of income
This five-point plan would help FIFA in the event of any guilty verdict, it would also send a message to the world that the organization is open to change and regards the sport's integrity as its top priority.
One of the problems FIFA currently face is that it is seen as an entity stuck in the past with men in their 60s and older, making decisions that affect the lives of generations far younger.
By introducing five-year terms for executive committee members, you would lower the average age and stop certain people from feeling they can do nothing wrong. The higher turnover would also encourage transparency because their terms would be assessed and analyzed, increasing transparency and competence.
Corruption is a cancer that can affect even the most rigorous of institutions but it is FIFA's challenge to show that, as leaders of the world's most loved and played game, football is free and will remain free of such underhand coercive forces.