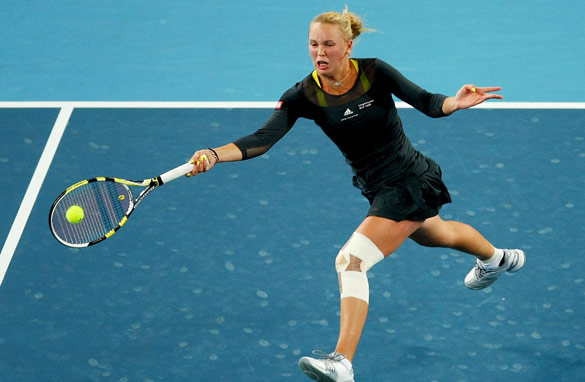 Caroline Wozniacki has risen to the top of women's tennis, but has yet to win a Grand Slam event.
Despite having never won a major title, Caroline Wozniacki is the new top-ranked player in women's tennis.
The young Dane's rise to the summit has once again started the debate: Is she a worthy number one, or are the WTA rankings flawed?
You'll remember the same topic came up when Dinara Safina became world number one last year, and Jelena Jankovic before her. Neither player had won a major then, and they still haven't.
I think we all agree that if Serena Williams was fit, it would be her that would sit atop the rankings rather than Wozniacki.
Now number two, Serena has only played six tournaments this year – but she won two of them and they just happened to be the Australian Open and Wimbledon. Wozniacki, meanwhile, has played 21 tournaments in 2010 and won six of them – four coming in the last two months.
So it's clear to me that she does indeed deserve the number one ranking as she clearly is the best active player of the moment.
The key word there is active, because her main rivals – Serena, Venus, Kim Clijsters and Justine Henin – have hardly played since Wimbledon.
Henin, like Serena, hasn't played at all because of injury. Venus has just played once, while Kim participated in three tournaments, winning two of them – most recently the U.S. Open.
To my mind the Belgian would also be a worthy number one, but whether she will get there, playing a reduced schedule next year as she plans to do, remains to be seen.
Should Venus and Serena recover from their respective injuries in 2011, it goes without saying they will plan their year around the majors, and Henin will most likely do the same as she aims to win at the All England Club for the first time – her main reason for returning to tennis.
So this could be a worrying time for those who run the WTA Tour. The likes of Zvonareva, Schiavone, Jankovic, Stosur and Dementieva are very, very good players, but they simply aren't big draws. Regardless, they will be the top seeds in a number of tournaments next year.
Wozniacki, then, could very well be the Tour's savior. She's attractive, only 20 (so plenty of time to start winning Majors), hits the ball incredibly hard, is a fierce competitor and has a winning smile.
Perhaps her climb to the top will inspire her generation – young players who haven't yet made the difficult step into the top 10.
What the women's tour desperately needs is more and better rivalries. The men's tour has it, which is why it is currently the one to watch.