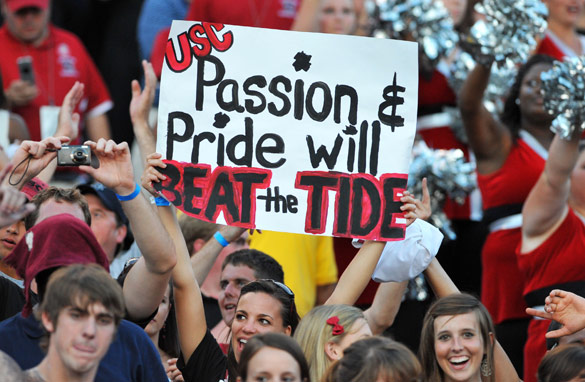 One South Carolina fan shows her support as they take on Arizona's Crimson Tide.
I've covered World Cup and European Champions League finals and witnessed some of the most niggly and bad-tempered Manchester and Merseyside derbies in the English Premier League, but nothing quite prepared me for my trip to the University of Alamaba where the Crimson Tide faced Florida last weekend.
I was curious as to just what to expect. I know from nearly seven years of living in the States that College Football is a big deal, especially here in the South. But was there really going to be 101,000 fans showing up for what, at the end of the day, was a meeting between a pair of rival universities?
Of course, the reality is  that it's so much more than that. Yes, there really were that many in attendance – an amount that dwarfed anything Europe had to offer for that particular weekend. A crowd of 80,000 plus packed in to see Borussia Dortmund down Bayern Munich, and a couple of weeks back in England 78,000 witnessed a stunning Dimitar Berbatov hat-trick dash Liverpool's hopes against Manchester United at Old Trafford. You see, college football here runs in the blood. It's about passion, pride and at times rivalries can get downright nasty!
For example, ask an Alabama fan what he or she thinks of local state rivals Auburn and let's just say the response isn't too enthusiastic.
I'll be honest, I knew there would be plenty of razzmatazz as far as the day was concerned but the crackling atmosphere of the game itself was truly impressive. When I played university football in England back in the day, even our biggest games were attended by just a handful of people! And that's assuming it wasn't lashing down with rain.
In Tuscaloosa, where the game was played, students past and present basked in 80 degree heat hours before kick off for what's known as Tailgating – a pre-match ritual usually involving much fun and merriment fueled by plenty of food and drink shared amongst friends and family. A great way to start the day in anyone's book!
The night before the game was no less convivial either. For research purposes only, myself and producer Joe McCurdy took to 'the strip' – an area right by the school's main campus packed full of bars, restaurants and legions of students. Our mission was to check out the pre-match atmosphere, and the excited buzz doing the rounds nearly 24 hours before kick off had to be witnessed to be believed.
For me though, one of the most impressive sights of the whole day was the home team's arrival at the stadium. The Crimson Tide are the national champions and when the coach pulled up and the players walked out towards the vast arena, the thousands who had gathered went wild. Every move, of course, caught by the TV cameras before a live prime-time screening on one of the main networks too.
Ultimately, I suspect only a handful of these players might go on to forge a career in the NFL, but whether they do or don't, they'll have memories to last a lifetime. In fact, after my weekend in Tuscaloosa, so will I.
There's no doubt nobody does college sports like the Americans!