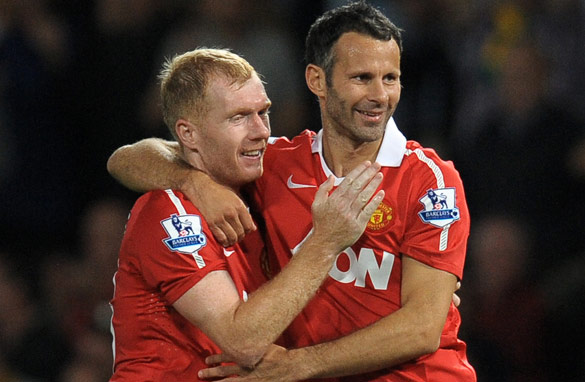 Ryan Giggs (R) and Paul Scholes have spent their entire careers at Manchester United - a rarity these days.
You know what intrigues me these days? The love and loyalty football fans have towards their clubs.
Regardless of the managers and players that come and go every season, they remain faithful. Even if they can't pronounce the name of the new centre forward who was bought from an unknown club, they will sing it with all their might when he scores a goal.
Yes, the unconditional love is still there and it really impresses me. In today's world, where players show little allegiance to the colors they represent, why are fans still so passionate towards them? And is this about to change?
When I was growing up, I supported Benfica. It was my hometown club, some members of my family used to go to their games, and I jumped on the bandwagon. I think most of us did that as kids, right?
We became fans by association and then slowly grew fond of the players, the manager and the stadium. In my opinion, in the 1980s when I started going to watch Benfica play, it was easy to become involved.
I knew who all the players were and I was sure they would stay with the club for most, if not all of their careers. I trusted them and I believed they would give 100% for "our club".
The core of Portuguese players was always there and even the foreigners who came in normally stayed for at least four or five years. There was continuity and it was easy to identify with the players and the club.
Fast forward 25 years and it's a different world. Whatever club you support, just take a minute and think about the number of players that come and go every season.
With the exception of a handful of teams in Europe, who have great academies and responsible transfer policies, it's tough to keep up with what's going on.
Proof of this is the small amount of players who spend their entire careers with just one club. Ryan Giggs, Paolo Maldini and Carles Puyol are three names that come to mind but they are a dying breed. Even Raul, an idol at Real Madrid, was shipped out in order for an unproven striker like Karim Benzema to get more minutes. Strange, if you ask me, but maybe I am old fashioned.
So what does the future hold? With the pressure to win increasing every year, I fear the worst. Instead of nurturing local talent and investing in academies, clubs will continue to rely on the transfer market to fulfil their needs and trade players like baseball cards. Every year, the number of new faces in different places will continue to increase.
So back to my initial question, that pertains to supporters. As a fan, do you care that players come and go every year? Do you still identify as closely with your team even if its squad changes every season?
If you do, I really respect you, but I doubt your love for the club will stay strong if the trend continues.
I would like to see FIFA introduce some new rules to add stability to club football. Personally, I am a fan of the 6+5 rule which requires all clubs to have at least six home grown players.
This would encourage teams to invest in their academies and think twice about unloading their promising youngsters in order to get a quick payday. I would also be in favor of introducing a law that would oblige all players and clubs to commit to three-year contracts. So when a club signs someone, they are stuck with him for three years.
Obviously there would have to be an escape clause for extraordinary circumstances, but it would encourage responsible spending and add some stability to the game, don't you think?
That way, you may actually get a chance to make up a nickname for that striker whose last name you cannot pronounce...