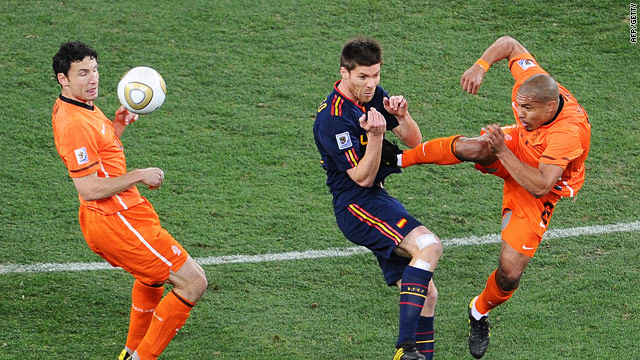 Nigel de Jong's chest high tackle on Xabi Alonso in the World Cup final was widely condemned.
When does a hard man become a bad man? That's the issue currently being debated by the football fraternity following claims by FIFA's top medical official, Dr. Michel d'Hooghe, that professional football is being disfigured by what he called "criminality" and "brutality" on the pitch.
Those are some harsh words from one of the longest-serving members of FIFA"s executive committee, and they've obviously raised the hackles of many in the game, notably the global players' union, FIFPro, which rejects the idea that any player would deliberately try to injure a fellow professional.
However, that flies in the face of the old football ethos in which managers would often advise the more physical of their players to "let him know you're there" in reference to dealing with a tricky opponent.
In fact, it used to be, and possibly still is, accepted practice to put in a harsh challenge on a so-called "Fancy Dan" early on just to put him off his game and make him wary each time he got the ball.
Players built their reputations on it: Ron "Chopper" Harris of Chelsea. Norman "Bites your legs" Hunter of Leeds, Miguel Angel Nadal, (Rafa's uncle) better known as "The Beast" of Barcelona, Claudio Gentile, (part of a trio of Italian hard men completed by Giuseppe Bergomi and Marco Tardelli), Andoni Goikoetxea, alias the "Butcher of Bilbao".
The list is endless. Every country had its hatchet men, many of whom could play, but were world renowned for living by the sword. And whether they were punting Pele out of a World Cup or menacing Maradona in the Serie-A, they were lauded for a job they were proud to do.
However, apparently, times have changed. Bad boys, such as Manchester City's hard hitting henchman, Nigel de Jong, are increasingly regarded as pariahs of the game.
His tackle on Hatem Ben Arfa, which broke the leg of the Newcastle forward, was the catalyst that sparked Dr. d'Hooghe's damning words, even though the good doctor, ever the diplomat, denied he was referring to any particular player.
Netherlands drop De Jong after Ben Arfa incident
The Dutch midfielder, whose methods were already in the spotlight following a brutal chest high tackle on Xabi Alonso during the World Cup Final, has now been dropped from the Netherlands national team by coach, Bert Van Marwijk, who promises to speak to de Jong about "the way he needlessly looks to push the limit."
But is that what the game wants - neutered hard men?
De Jong, despite the occasionally catastrophic outcome of his challenges, is only fulfilling a role that footballers have filled since the game began. There are creators, like Cristiano Ronaldo and Lionel Messi, and then there are destroyers, whose job is to stop their opponents and/or win the ball so that their own maestros can do their thing. Both parties know the score.
Obviously, in an ideal world, all tackles would be hard but fair. But it's a contact sport with a lot at stake, so mistakes will be made and lines will be crossed. That's why we have referees and governing bodies - to punish misdemeanors.
And violent conduct should be punished, even, as Dr. d'Hooghe has suggested, retrospectively based on video evidence. But equally, it has to be understood that sometimes violence, or the appearance of violence, is a by-product of endeavor and passion, with the unfortunate victims as the casualties of war.
I suspect that's what de Jong would argue, and he does have his sympathizers. After all, it's Football we're talking about not Foosball, and a crunching tackle can still be a beautiful thing.