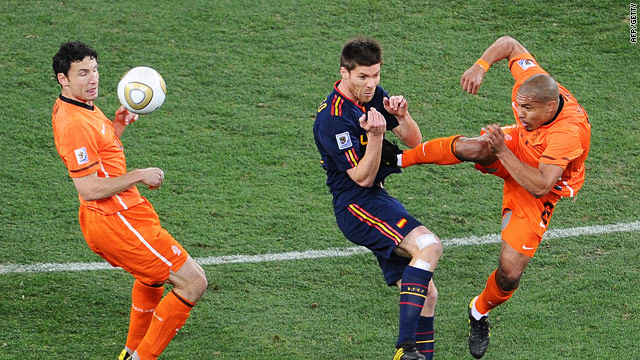 Nigel de Jong's chest high tackle on Xabi Alonso in the World Cup final was widely condemned.
When does a hard man become a bad man? That's the issue currently being debated by the football fraternity following claims by FIFA's top medical official, Dr. Michel d'Hooghe, that professional football is being disfigured by what he called "criminality" and "brutality" on the pitch.
Those are some harsh words from one of the longest-serving members of FIFA"s executive committee, and they've obviously raised the hackles of many in the game, notably the global players' union, FIFPro, which rejects the idea that any player would deliberately try to injure a fellow professional.
However, that flies in the face of the old football ethos in which managers would often advise the more physical of their players to "let him know you're there" in reference to dealing with a tricky opponent.