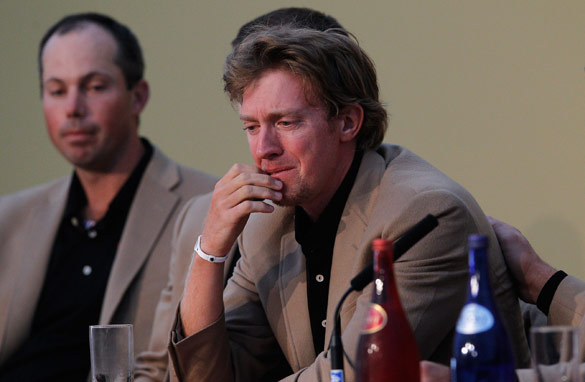 Hunter Mahan fights back the tears after the U.S. team lose on a dramatic final day against Europe.
Celtic Manor, Wales (CNN) A week that started with everyone sheltering from the pouring rain, ended with a European team being showered with champagne.
This was one of the tightest ever Ryder Cups and the nail-biting drama re-affirmed the event as one of the best competitions in team sport.
But in sport every story has two sides, for every champion there is a defeated opponent, for every figure who grabs glory there is another who must deal with despair - and very often the margins between the embrace of victory and the cold, company of failure is slim.
And so it was that while the European team were posing for their winning photos, the Americans were sitting before the press, trying to put a brave face on what had been a crushing loss.
It was all too much for Hunter Mahan. America's twelfth man, who lost the final match against Graeme McDowell. The 28-year-old was in pieces. Away from the glare of the public galleries but in front of the world's press he was too choked to speak.
As tears ran down his cheeks, Phil Mickelson smoothly took the microphone and spoke on his behalf. Zach Johnson put his arm around Mahan and Steve Stricker and Stewart Cink rallied to support their devastated teammate.
Cink put Mahan's suffering into context when he said that U.S. players often discuss what role they would like to play in the Ryder Cup. He said only 50 per cent would want to play last in the singles but only 10 per cent would really mean it.
Mahan, who was brilliant as a Ryder Cup rookie two years ago, had bravely played in the anchor position and felt as though he'd let the whole side down.
He'd been under immense pressure. His opponent McDowell later admitted he was so nervous that he cold barely hold his club.
Twice more Mahan was asked a question and on both occasions he struggled. The last time, he couldn't speak at all. Those who had turned up to take pictures at a press conference felt like they were taking pictures at a funeral.
This is the side of sport not often see. The focus is always on the victors, the trophy and the champagne. The winners can celebrate, the losers can please themselves.
The general feeling has always been that American golfers don't care about the Ryder Cup. Hunter Mahan and all his teammates dispelled that myth at Celtic Manor.