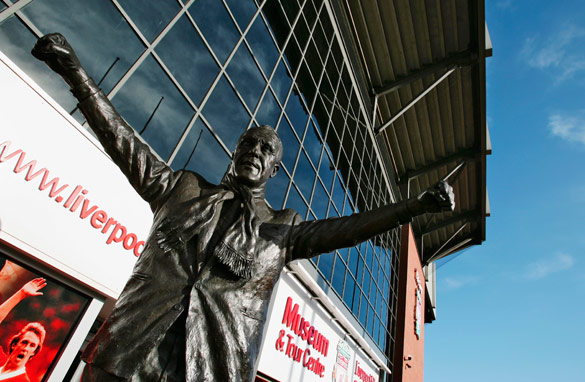 Liverpool's awful start to the season is their worst since before Bill Shankly arrived at the club in the 1959.
Just when Liverpool fans - supporters of the once mighty powerhouse of European football which is now saddled with debt, suffering misfiring players and with no league title win since 1990 - thought it couldn't get any worse, it did.
As hosts to top-flight new boys Blackpool and in desperate need of a win, Liverpool unbelievably lost to the orange-clad minnows of English football 2-1 in front of the Anfield faithful. Considering the Reds have won only two of nine games in all competitions so far this season and were eliminated from a domestic cup by fourth flight Northampton recently, I can't remember a time when they have been so low. What's worse, I don't see improvement anytime soon.
I will be honest with you. I grew up a huge Liverpool supporter. My first love was Benfica, my hometown club in Lisbon, but in my early teens I admired the Anfield club from afar. I was impressed by their quick passing game, their winning mentality and by the passion of their fans. My favorite player was Ian Rush, because at the time I played as a striker myself, but their group of players in the Eighties was phenomenal. The decades that followed were tough. The Nineties were poor by club standards and with the exception of the 2005 Champions League victory, the next decade was disappointing as well.
In fact, looking back, there were quite a few barren spells, but still, I believe right now Liverpool are probably at their lowest point of recent times. Without a title league title in 20 years, in financial disarray and with limited talent in their squad, arguably Anfield has not seen such dire straits since the 1950s when the side were relegated to the second tier. The arrival of the legendary Bill Shankly put the club on the right track back then, current manager Roy Hodgson has a Herculean task on his hands to turn things around again.
So who is to blame for the club's predicament? It's easy to blame Rafa Benitez, and I think the Spaniard is definitely a major reason for the team's demise, but the root of the problem goes back to the days of Graeme Souness and Gerard Houllier. From poor signings, to letting club idols like Steve McManaman, Robbie Fowler and Michael Owen leave, there have been too many mistakes to document.
I actually believe the main problem at Liverpool at the moment is a lack of identity. There are only two local players left, and their supporting cast has changed virtually every season for the last decade. Houllier and Benitez brought in too many average overseas players who did nothing but increase the expectations on the talented few. Look at the team now. Players like Kyrgiakos, Lucas, Maxi Rodriguez, David N'Gog are not good enough to play for the club. Above them, you have a group of players with a higher level of talent, but let's be honest, there are only three world class performers: Pepe Reina, Steven Gerrard and Fernando Torres. Not enough when in the Premier League, you have so many teams with money to spend. While Liverpool's squad has slowly deteriorated, most other clubs' have improved. That's why the Reds find themselves in the bottom three right now.
So what can be done to change, and is Hodgson the man to stop the ship from sinking? Well, I believe he deserves a chance. The veteran manager got an average squad with limited resources when he arrived and brought in a few players who haven't had time to settle yet. Trust me, Christian Poulsen, Raul Meireles and Joe Cole are all good players and they will prove it sooner or later, they just need time to shine in a Liverpool shirt. The problem is, that time is a luxury in the world of football, and by the time the newcomers reach their potential, it may be too late for the club to challenge for any trophies.
Unfortunately for all Liverpool fans around the world, the present and the immediate future do not look good. The way the season is developing, this team can only hope of qualifying for the Europa League, and to do that, they need to start winning some games soon. Very soon. Otherwise they could run the risk of getting drawn into a relegation battle. Think that is absurd? Take a look at the league table right now.