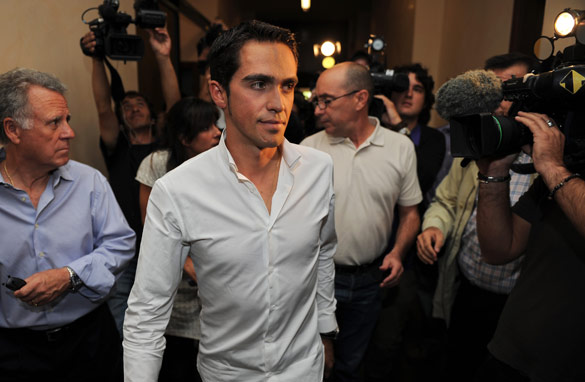 Alberto Contador tested positive for the banned substance Clenbuterol, it was revealed on Thursday.
News of Alberto Contador's positive test for Clenbuterol may have been a shocker to those of us outside the cycling fraternity, but I get the impression that it was an accident waiting to happen for those in the know.
Contador may have been portrayed as the poster boy for the new era of cycling, in which rigid testing would weed out all the cheats and eventually make doping scandals a thing of the past. But it always looked a bit like clutching at straws when your poster boy is a previous doping suspect - Contador lost his place in the 2006 Tour de France in connection with the Operacion Puerto scandal, before facing further insinuations of doping a year later, and again in 2009.
The Spaniard, while always found to be clean, was therefore a sitting target in some respects, since this seems to be a sport in which if mud doesn't stick first time, you just keep on throwing it until it does. Just ask Lance Armstrong, who's now under the scrutiny of a federal grand jury in the United States amid yet more allegations of doping during his career.
That said, Contador should be considered innocent until proven guilty. And by the way in which the International Cycling Union is downplaying the level of Clenbuterol in his system on July 21st, it seems highly likely that he will be exonerated of intentional wrongdoing.
If he is, then perhaps cycling needs to ask itself a serious question. How much transparency is too much transparency? If indeed Contador did ingest a miniscule amount of the banned drug via contaminated food, and if indeed he did so unwittingly with no intention of cheating, then why trumpet his faux pas to the whole world?
I can't for the life of me believe that the intention of the World Anti-Doping Agency is to humiliate and undermine those who make a genuine mistake.
Surely anti-doping policies are designed to catch those who systematically and deliberately seek to enhance their performance by the use of banned drugs. If so, where is the sense in subjecting an athlete to a public pillorying for what is not the cliched cover-all excuse of an "error of judgment" but genuine bad luck. Furthermore, what's the point in embarrassing the whole sport over a relatively trivial offence?
Of course, every sport needs to be clean and wants to be seen to be clean, and cycling is obviously showing a great desire to get its house in order. However, I think in an effort to be transparent you can sometimes become over zealous, and that's a danger. After all, while it's sometime necessary to air your dirty laundry in public, at other times it's better to just stick it in the tumble drier and be done with it.