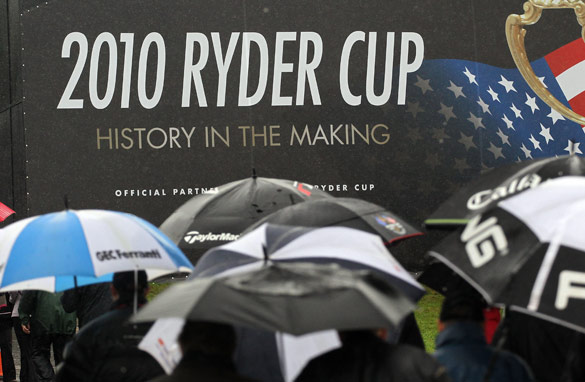 A rain-drenched Ryder Cup in the Welsh resort of Celtic Manor.
Nick Faldo didn't get much right when Europe lost the Ryder Cup two years ago, but he was spot-on when he said of the next match in Wales "bring your waterproofs".
I stood out and watched the opening tee shots this morning and, within minutes, I was absolutely drenched. Even my waterproofs were of minimal protection. My phone short-circuited with all rain pouring off my hands and I've spent the afternoon jostling with other journalists to hang my jacket in front of the hot-air blowers in the media center.
The conditions were inconvenient for the American players too. So inadequate was their wet-weather clothing that PGA officials were forced to rush into the merchandise tent to purchase proper gear for their men. The problem was fixed, but it was surely a blow a to team morale.
The forecast was always miserable for today. Perhaps it wouldn't have been so bad if it hadn't already been raining for much of the week. The course was saturated before the last group had even teed off and with bunkers, greens and fairways well and truly flooded, play was suspended for the first time in 13 years at 0942 am local time.
It's a great shame. A shame for the players, some of whom regard the Ryder Cup as a career high; a shame for the 45,000 people that paid good money to be here, and it's hugely disappointing for the marketing board who were hoping to promote the beauty of Wales to the world this week.
One of the world's most intense sporting competitions, which has been hyped-up for two years (and a decade in Wales), is at the mercy of the weather over the coming days. We can expect the competition to run until Monday, thus seriously affecting global viewing figures, and there may even be compromises to get it finished.
Could it have been avoided? Well, maybe. The Ryder Cup used to be played in September, but has been pushed back into October because of the FedEx playoff series in America. By all accounts, the weather in Wales was fine last week. One of world sport's most cherished contests has to play second fiddle to the PGA tour.
I've heard some mutterings this week that it should it never have been held in Wales at all. For all that Ryder Cup golf has been played by "Europe" since 1979, only once has it been played outside Great Britain and Ireland – at Valderrama in Spain. Gleneagles in Scotland will host it in 2014, but in eight years time it definitely will be staged on the continent.
France, Holland, Spain, Germany and Portugal are in the running and – given that play was also suspended in Spain back in 1997 – I wonder if the Portuguese bid team from southern (and sunny Europe) are feeling a little more confident this week.
The rain isn't anyone's fault, and you certainly can't blame Celtic Manor that it eventually all collected on their 2010 course. Where questions will surely be asked is of the U.S. team's choice of wet-weather clothing. They heeded Faldo's warning, but sadly didn't ask him exactly what kind of waterproofs they should bring.