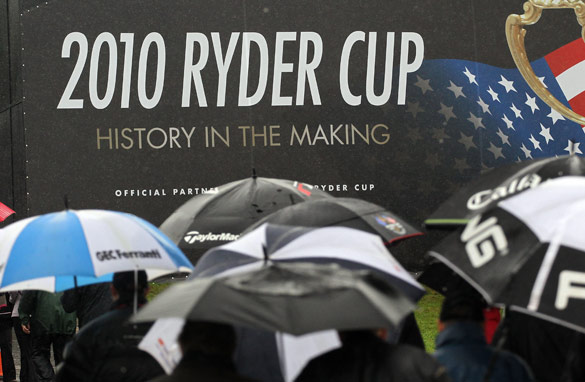 A rain-drenched Ryder Cup in the Welsh resort of Celtic Manor.
Nick Faldo didn't get much right when Europe lost the Ryder Cup two years ago, but he was spot-on when he said of the next match in Wales "bring your waterproofs".
I stood out and watched the opening tee shots this morning and, within minutes, I was absolutely drenched. Even my waterproofs were of minimal protection. My phone short-circuited with all rain pouring off my hands and I've spent the afternoon jostling with other journalists to hang my jacket in front of the hot-air blowers in the media center.
The conditions were inconvenient for the American players too. So inadequate was their wet-weather clothing that PGA officials were forced to rush into the merchandise tent to purchase proper gear for their men. The problem was fixed, but it was surely a blow a to team morale.