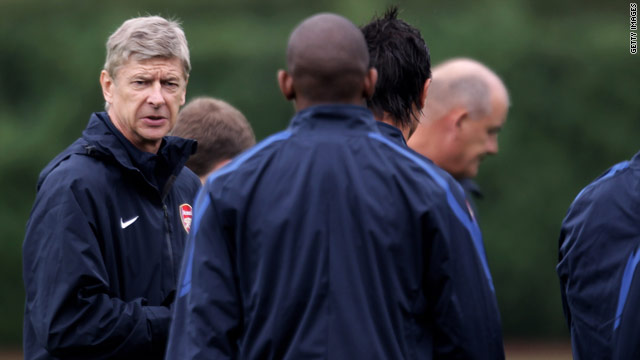 Arsene Wenger (left) is under pressure to deliver silverware at Arsenal after five seasons without a trophy.
Arsenal have not won a trophy in five years and judging from their performances in the early part of this season, that drought will most probably last another year. If it does then Arsene Wenger's time at the Emirates Stadium could come to an end.
I know it is too early to make predictions, but I am pretty confident that with this group of players, the Gunners won't be celebrating any silverware by May, 2011.
What baffles me is that Wenger has had several seasons to invest in his squad, but has decided against it. The French manager continues to insist on relying on young players who have won little or nothing in their careers.
It's easy to start from the back when we try to break this down.
Since Jens Lehmann left, Arsenal have been without a top-class goalkeeper – a 'keeper that can come up with big saves to preserve victories and avoid silly mistakes that cost points.
That keeper is not Manuel Almunia. We all know that and so does Wenger, so why has he not gone out and invested in a new goalie? He courted Mark Schwarzer this summer, but that wouldn't be an intelligent choice looking at the future of the club. So why not go for someone like Fiorentina's Sebastien Frey, Genoa's Eduardo or Maarten Stekelenburg of Ajax?
Their defence is also missing a world-class player. Every big club around Europe has an experienced leader at the back, while Arsenal have no-one who fits the bill. Even when William Gallas was there, he was not the team player and the reference point that a young team needed. This summer Wenger brought in Laurent Koscielny and Sebastien Squillaci, both good players but neither will make or break their season.
Midfield is an area of the pitch where Arsenal are renowned for having some of the most talented players in the English Premier League. This is the engine room where many say the best football in England is created. I agree the Gunners have many skillful players and Cesc Fabregas is a fantastic footballer. But there has been a key piece missing in the center of the park since Patrick Vieira, a defensive midfielder par excellence, left the club.
In order for Cesc to blossom he needs someone to cover his tracks. At Barcelona, Xavi has Sergio Busquets. At Inter Milan, Wesley Sneijder has Esteban Cambiasso. But who does Fabregas have? Alex Song. A talented young player for sure but he lacks the character and strength to do the job against the top teams on the continent.
Up front, it's a similar story: a lot of style but not much substance. Robin van Persie is a top player but he's not a pure striker who will get 20 goals per season. Andrei Arshavin blows hot and cold and you never know if you are going to get an inspiring or frustrating performance from the Russian international.
Marouane Chamakh was signed this season and he has added some much needed muscle but is still not the reliable forward player this team needs at the highest level.
So what has to be done? Wenger must realize he may have to start from scratch after this season ends. He may have to sell his fringe players and bring in two or three established internationals that can gel with the talented youngsters in the squad and create a winning side. If he doesn't do it fast, the Frenchman may be heading for the exit door when the board realizes the trophy drought has gone on for too long.