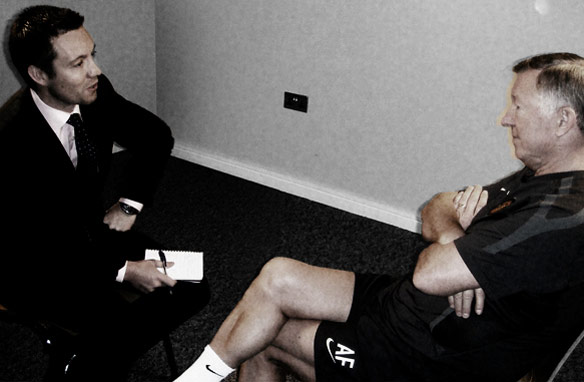 CNN's Alex Thomas asks legendary Manchester United manager Alex Ferguson your questions.
When I took the call, it was good news and bad news. "Would you like to interview Manchester United manager Alex Ferguson?" Absolutely. "You'll only have seven or eight minutes with him". Not ideal – but still a yes.
Because my CNN colleague Terry Baddoo had already filmed a long chat with United's boss during their pre-season tour of the United States, we decided to do something different this time.
We appealed for questions from you – the viewers and readers of CNN International and CNN.COM.
Unsurprisingly, we had a great response, via Facebook, Twitter and our website. You sent in your suggestions from North America, Africa, Europe, Asia and the Middle East – proving yet again that football is truly a global game and the sport's top players and managers, like Alex Ferguson, are world famous.
Interestingly, I didn't see a single question on the more controversial subjects surrounding Manchester United at the moment – the Glazers' ownership and the allegations about Wayne Rooney's personal life.
Either you're not interested in those topics or you were trying to spare me the manager's famous, so-called, hair dryer treatment.
We knew we'd only have time for a handful of questions in the time available and, in the end, it wasn't too hard to select them because the same ones kept cropping up.
You wanted to know what Alex Ferguson thought of his team's chances in the Barclays Premier League and UEFA Champions League, who are the best players he has ever signed or coached and fans of United's rivals were particularly keen to find out when the great man would be retiring!
So, before he got to work at the club's Carrington training ground one morning, we asked him – and you can watch and listen to what he had to say here on CNN.COM.
Congratulations to Mwate Kowa, from Zambia, Tarek Elnady, from Dubai, Gold Obielum, studying in Switzerland, Solo De Asotie, from Nigeria and Suthee Srisakulchawla, in Thailand. We picked your questions, although we had to abbreviate some of them. And sorry if I didn't pronounce your names correctly.
Also, well done Ashok Tulachan, who lives in California, and Youself El Helw, from Egypt. We planned to use your questions too but ran out of time. And we also had to finish before asking my personal favourite – sent in from Nigerian lady Jamila Mimi Mohammed – who wanted to know, what brand of chewing gum does Sir Alex chew? Is it a stress reliever?
Those will have to wait for next time.