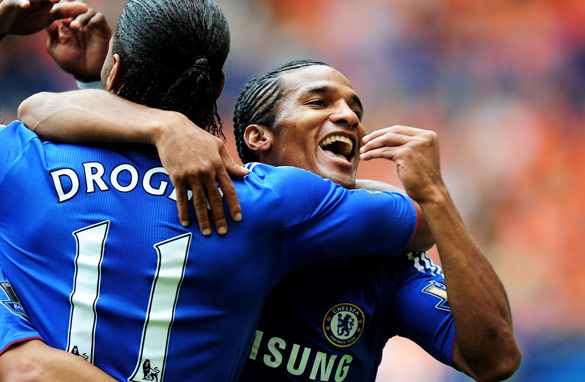 Chelsea's Florent Malouda celebrates another goal for the Blues.
In England, many people are already crowning Chelsea as Premier League champions. After five rounds of fixtures, apparently, there are several commentators and pundits who believe the Blues have already proven they are the best team in the country.
Now if you take a look at the numbers, it is easy to see that Chelsea have looked good so far. They have five wins in five games and they have scored a whopping 21 goals. You don't need to be a genius to figure out that's an impressive average of over four goals per game. Carlo Ancelotti's side have also played some great football at times, and to concede only one goal in the process is also noteworthy.
So, we have established that the Blues are doing well. But are they on their way to another title? Uh … not so fast. At this point, I would like to interject with a reality check.
Who have Chelsea played so far? Have you had a look? Don't worry, I will tell you: West Brom, Wigan, Stoke, West Ham and Blackpool. So, two newly promoted sides and three others that have combined for two league wins between them. In other words, they have played no-one. No-one to challenge them in any way, shape or form. In a world where there is a widening gap between the top and bottom teams, it does not shock me that the London side has reeled off five straight convincing wins.
You may be thinking that it's still a pretty impressive start to the season and I would agree with you. Nowadays, you don't win games on paper and you must work hard every time you walk out onto the pitch in order to get the three points, I won't contest that. However, it is way too early to start talking about a title, and in my view they won't be lifting the trophy when it is all said and done.
Of course they will challenge to be champions again. They have the quality, the experience and the organization required to do so. Carlo Ancelotti is a fantastic manager and they have a series of players in John Terry, Frank Lampard and Didier Drogba, that lead by example and can play a leading role this season.
The return of Michael Essien and the addition of Ramires have also made the team stronger. However, there is an old obsession which will get in the way. The European Champions League. In my mind, there is no doubt that towards the business end of the season, if they get to the latter stages of Europe's top club competition, they will rest players in the Premier League in order to win the trophy that has so far eluded them.
The next month will offer some insight into the true value of this team. Up next, a tough away game to Manchester City then there is a home tie with Arsenal before another tricky road battle with Aston Villa in Birmingham. If they get seven or nine points from those games, then we could start talking about Chelsea reigning victorious in the league again. Until then, we should watch and wait.