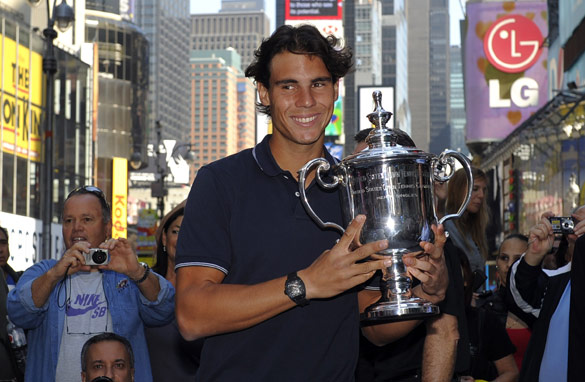 Can Rafael Nadal overhaul Roger Federer and become the greatest ever?
If you had to describe Rafael Nadal's tennis in one word, what would it be? Mine would be "relentless."
Off the court though, the word I'd use, would have to be "modest." Here we have a champion who, though ranked number one by a land-slide, refutes the fact that he's the best player in the world.
And rightly so. I'll get to that in just a moment. First let's consider his service grip-change, which he decided on two days before the U.S. Open began!
Athletes, for the most part, hate change, especially so close to a tournament, because when pressure situations arise, as they are apt to do in tennis, technique that's not familiar usually breaks down.
That's the reason Pete Sampras never made a change before the French Open. He says he now regrets not using a larger-headed racket in order to try and conquer the Roland Garros clay. He of course didn't win in Paris and so failed to complete the career grand-slam.
Rafa is unusual. He is happy to make those changes – for better or for worse. In his press conference following his semifinal win over Mikhail Youzny at the Open, he said he didn't only practice to improve, but also to learn. And he's learning and progressing all the time. This year he's won slams on clay, grass and hard-court!
Before the New York final against Novak Djokovic, the 24-year-old Spaniard had only been broken twice. No wonder he hadn't lost a set. The Serb managed to break him three times in the championship match, but Nadal's serve held up on the big points and that was a big factor in him claiming the one major he'd never won.
So now he's joined the select few of those to complete the career grand slam.
Roger Federer was the last to do it after claiming the 2009 French Open. That was one of his 16 grand-slam titles – a record, but with the younger Spaniard doing so well right now, it's almost like the Swiss is an after thought.
Federer has said he wants to win 20 grand-slams before he retires and I believe he'll win at least two more. Nadal refuses to set a target – but needs to claim at least seven more slams, in my mind, to truly earn the title of the "best ever."
We know he's mentally strong enough to do it – the question is will his body hold up? Unlike Federer, he puts an awful lot into each and every point and in the past he's struggled physically.
I wouldn't be at all surprised if he starts well next year but then tails off. Long-term it might be the best thing for him!