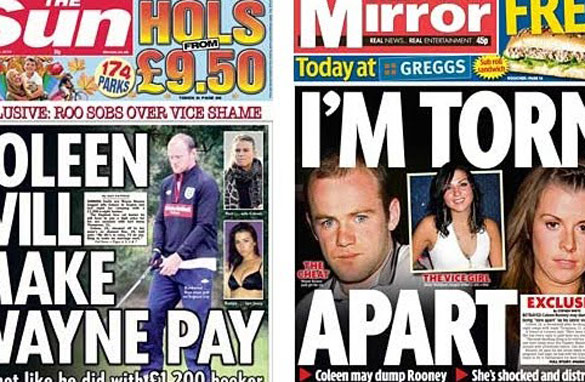 Could Wayne Rooney have benefited from more guidance?
You may have heard recently that the private life of Manchester United and England striker Wayne Rooney has been subject to allegations in several British tabloid newspapers.
Once again, a rich and famous sports star has apparently not been able to resist the temptations associated with his status and his bank account. Am I the only one who is not surprised? To be honest it didn't shock me at all.
Without forgiving the situation, if indeed it proves to be true, it throws light once again on the lives of the privileged elite of the sporting world and the morality of their conduct. It also raises the question of whether there is enough support for these individuals from those who create their stardom.
Tiger Woods' transgression were notorious but if anything, the culture within the elite of Europe's footballing class for promiscuity and philandering, is more ingrained and widespread.
It would be fair to say that exceptional circumstances contribute to this. In the modern-day game, where soccer is an entertainment that captivates the world, the players can attain unimaginable wealth and fame at a very young age.
Often, in Europe's top clubs, there will be at least ten millionaires under the age of 25 within the squad. All whose faces are well known, are highly attractive to the opposite sex and have money and time to burn. Some are single, many are married.
Everywhere they go, they hear how great they are and how they can do no wrong. They have agents who help them buy houses, cars, help them pay their bills and who book flights and holidays. What is the only thing that most of them have to worry about? Running and kicking a ball.
The lifestyle is alluring and glamorous and there are also many women who seek to capitalize on this. A career can be built on being the girlfriend of a famous footballer, and many are ruthless in their pursuit of such riches as there is money to be made from kiss-and-tell stories. Therefore, every time they go out, they have girls all over them. Every time they are on the road, they have girls all over them.
What is worse, such fame, means many footballers have few people around them they can trust. In their mind, family and childhood friends are the only ones who loved them before they were famous. That leads to one of the biggest mistakes, marrying their first girlfriend, the girl who cared about them before they were rich. Believe it or not, players' agents and coaches actually encourage them to do this, to settle the player, create an image of maturity and to build the role-model persona that is so valuable in the commercial world.
And herein the problem lies, because with the attention and opportunities for sex available to these guys, many cheat and then end up getting caught. Few have the maturity to walk away from provocative situations and few tell such groupies that flirting and sleeping together is off limits because they have a wife at home.
It seems strange that so much preparation is given to the players' performance on the pitch - with a support network helping hone every area from nutrition to fitness - while the management of their lives as celebrities away from the pitch falls on the shoulders of these young men alone.
In my eyes, everyone needs to start taking more responsibility, starting with the clubs who pay their athletes hundreds of thousands of dollars every week. In our jobs we have training courses, right? Well why don't teams start enrolling players in media training and why don't they organize classes with sports psychologists? It might go a long way to exposing these players to some of the temptations they will face in the future.
Agents need to grow up too. Instead of encouraging their clients to get married to their first girlfriend at the age of 25 or earlier, why don't they manage their life a little more intelligently? At least, if the players stay single longer, then they can act more irresponsibility and associate with as many escorts or strippers as they like without being judged by society.
Success is a Pandora's box, a life-changing experience, and for many footballers it needs to be managed better.