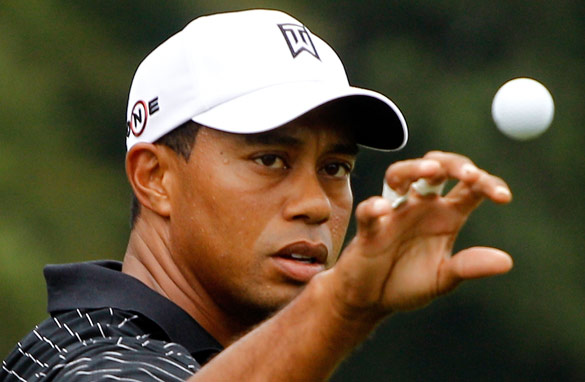 Tiger Woods has been picked for the United States' Ryder Cup team, but will his presence make the team stronger?.
Corey Pavin had to pick Tiger Woods for the U.S. Ryder Cup team but there is no certainty it will make his side stronger.
Cricket may not be an American sport but, boy, did Pavin play a straight bat after picking the world number one.
Did he ever consider leaving Woods out?
"I considered everybody as potential picks," the U.S. skipper replied, live on CNN's World Sport show. Not the yes or no we wanted to hear.
Was he worried about the backlash if he didn't select Woods?
"Other people can think whatever they want but I'm the captain and I'm trying to form the best team that I can form," said Pavin.
Very diplomatic but it's the use of the word "team" that Tiger's critics will pick up on. Is the world number one a team player? It's hard to pair him up and without Woods, Paul Azinger's side hammered Europe in Valhalla two years ago.
In fact, Tiger's Ryder Cup record isn't as bad as some have suggested. He's won 11 points from 25 matches and only three U.S. players have done better since the Great Britain and Ireland team was expanded to include Europe.
Pavin said he waited as late as possible before seriously considering who his wildcards would be and that played into Tiger's hands. Since his woeful display at the Bridgestone Invitational in August, the world number one has shown glimpses of his former brilliance in recent weeks.
Few will complain about two of the other wildcards – former major winners Zach Johnson and Stewart Cink. Certainly, Cink is a potential partner for Woods.
However, Anthony Kim will feel hard done by. On his debut in 2008 he won two-and-a-half points and only just finished outside the automatic qualifying spots this time. Instead, the role of exuberant youngster goes to Rickie Fowler.
Although he sounds like a character from British soap EastEnders (not exactly The Bold & the Beautiful), the 21-year-old was born in California and looks barely more than half his age.
He's one of five debutants on the American team while Europe has six. So, almost half the players will be experiencing their first Ryder Cup.
It'll be fascinating to see who prospers and who crumbles in the event's unique atmosphere.