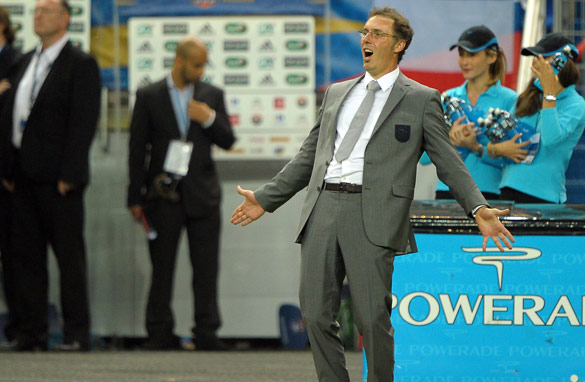 Laurent Blanc's young France squad lacked leadership and experience in their defeat against Belarus.
As I learned of France's home defeat against Belarus, I wondered if this was the lowest ever point for French football, and more importantly, how are they going to turn their fortunes around?
Friday's loss was Les Bleus' fourth in a row and there seems to be no light at the end of the tunnel for a team that lacks confidence, personality and experience.
I was in South Africa when France's players decided to strike in protest of the French Football Federation's (FFF) decision to send Nicolas Anelka home following an altercation with Raymond Domenech. I couldn't believe that professional athletes would actually refuse to work during a tournament which should represent one of the highlights of their careers. It would have to take a lot of anger and frustration for a group of players to take such a decision.
Some of those feelings are surely still present now in the French squad even if some World Cup squad members are no longer part of the national team set-up.
So how is Laurent Blanc going to heal these wounds and create the team spirit and unity necessary to get results? Well to be fair, he already tried a bold motivational approach, inviting his friend and fellow 1998 World Cup champion Zinedine Zidane to a training session in a bid to inspire the squad. He also handed out sheets of paper containing the words to La Marseillaise to players, encouraging them to sing the national anthem before the game.
I guess the Belarus result showed both of those tactics didn't work and it will take a lot more work on the training pitch and in the dressing room to raise the morale of these players. We should also remember this is a very young team that doesn't really have many role models on the pitch. There is not a Zidane, a (Patrick) Vieira or a (Didier) Deschamps, who can lead by example. Still, it's my belief that this team will improve quickly under the guidance of Blanc and qualify for Euro 2012. The talent is there with young players such as Lamine Sakho, Yoann Gourcuff and Karim Benzema and the spirit will eventually return.
Of course France is not the only national team with an identity crisis. Italy is clearly in a transitional period with a new coach and new set of players. They struggled to beat Estonia and will also take a while to gel with Cesare Prandelli and without the leadership skills of the retired Fabio Cannavaro and injured Gigi Buffon.
Last but not least, I have to admit that I am very worried about my beloved Portugal. With coach Carlos Queiroz suspended for six months by the national football federation for his role in disrupting an anti-doping test, and with Cristiano Ronaldo injured, they could struggle to make the European Championship. The players looked lost, especially in defense, during a 4-4 draw with Cyprus on Friday. There was no leadership, no direction, no clear game plan. By the time Queiroz comes back, the qualifying campaign could be in tatters.
As with any identity crisis, each of the three sides need some urgent self-analysis and rehabilitation, if they are to regain the team psyche that saw each side compete for top honors in recent times.