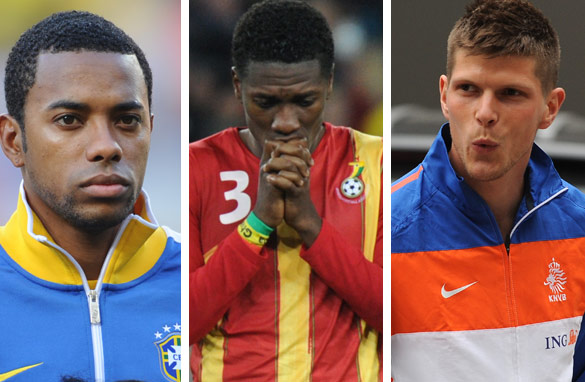 Robinho (left), Ghana's Asamoah Gyan (center) and Klaas-Jan Huntelaar (right) have all been subject to growing rumors they will be transferred before the window closes.
It's that time of year again when the wheeling-and-dealing of football coaches and clubs reaches a climax, as each bid to capture their desired player before the European transfer window - gateway to the most lucrative leagues in global soccer - slams shut.
As the clock ticks down to midnight of 31 August (or the slightly earlier time of 1700 GMT in Britain), contracts are feverishly written up and signed, medicals completed and agents assuaged in order for the teams' top transfer targets to be captured.
Many moves have happened in the last few weeks - striker Zlatan Ibrahimovic has switched from Barcelona to AC Milan (albeit on loan), Argentine midfielder Javier Mascherano has moved from Liverpool to Barcelona while James Milner completed his transfer from Aston Villa to Manchester City - but question marks remain over the movements of some other big names.
Brazil's Robinho - who famously signed with Manchester City in a last-minute deal from Real Madrid back in 2008 - is again subject to rumor. Will he join Ibrahimovic at AC Milan to complete an all-new strikeforce for the Rossonerri?
Dutch goal-getter Klaas-Jan Huntelaar has been a touted target for a raft of clubs including England's Tottenham Hotspur while Ghana's goalscoring World Cup hero Asamoah Gyan could be subject of a late bid from Sunderland if journalist whispers are to be believed.
The era of recession and downturn has affected the football transfer market, however, spending remains in the realms of big money. In 2009, spending in the English Premier League alone hit $711 million, compared to $618m in Spain, $540m in Italy and around $300m in France and Germany.
So far in 2010, the figure stands at $464 million for England's top division, but there is still time for some cash to be splashed. So in the dying moments of 2010's second trading period, who are you hoping your club will sign?
Is there a department of the team that needs strengthening or a player who has past his "used-by-date" and should be cashed in?
As ever, rumor and speculation is rife in such times leading to any number of duff tips and erroneous predictions. But what is the best, or most ridiculous, rumor you have heard - and where did you get the information from?
Let CNN know why the transfer deadline day is keeping you interested and we'll try to read your comments out on air on the World Sport program.