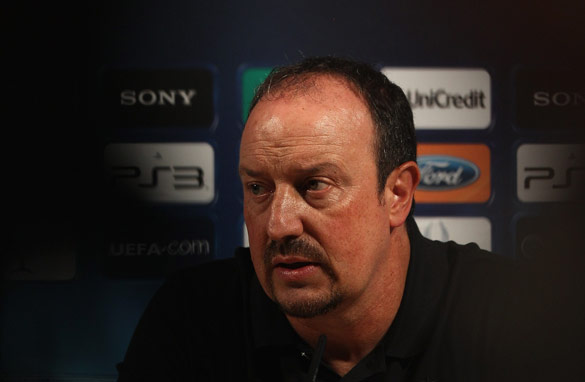 Has Rafa Benitez accepted a poison chalice by taking over at Inter Milan?
Rafa Benitez cut a lonely figure,as he stood in front of Inter Milan's substitutes' bench as his side were beaten 2-0 by Atletico Madrid in the European Super Cup.
A poor second half saw the Nerazzurri, an all-conquering force under Jose Mourinho, outclassed by a surprisingly effective Atletico side in Monaco's Louis II stadium.
As I watched Rafa staring into oblivion with the full time whistle approaching, I wondered whether he was regretting taking the job at the San Siro. The honeymoon has come to an abrupt end and there is no doubt this is going to be a long and arduous season for the former Liverpool boss.
Having taken over from Mourinho after Inter won an unprecedented treble, Benitez must have realized it was something of a poison chalice. This season, every time his side wins, it's thanks to the work of his predecessor, while when they lose the finger will be pointing at him. That's what you call a no-win-situation.
The first cracks in Inter's armour appeared not just on the pitch, but also after the whistle had blown. Rumors abounded among the journalists present that midfielder Dejan Stankovic had complained about playing on the wing, a position where he didn't feel comfortable. Wesley Sneijder, who was one of the stars of last season's team, was another frustrated after being substituted in the second half.
The body language exhibited by a couple of other players didn't look encouraging either. Samuel Eto'o, who has already declared he won't sacrifice his goals for defensive duties like he did last year with Mourinho, looked disinterested at times. The Cameroon striker, whose colossal ego was kept in check last season, could become a problem, just like he did at Barcelona before leaving the Camp Nou.
Benitez himself must have felt the tension in the air, because he found the need to send a message to president Massimo Moratti following the defeat. He did admit the team played poorly, and took responsibility for the fact, but then hinted that the squad needs to be improved. Now is this a message that you want to send to your boss or employees at this point in time? After all, this group of players won everything on offer last season.
The next few weeks could be crucial to Benitez's future at Inter. One or two more defeats and the pressure will surely rise. The Spanish coach could yet enjoy some success at the club this campaign, especially if you consider there aren't many teams capable of battling for the Serie A title, but my gut feeling is that the Spanish supremo won't stay long at the San Siro. The Nerazzurri will struggle to make an impact in the European Champions League and that could spell the end of his reign at the club.