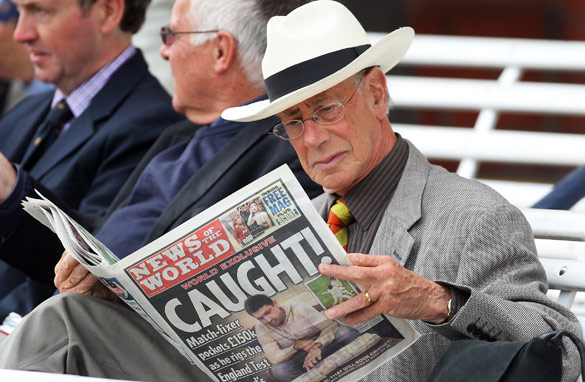 Pakistan's cricket team has been engulfed by accusations that some of their players are involved in a betting scam.
The allegations are damning, and the evidence of match-fixing produced by the British newspaper The News of The World could be devastating for the sport in Pakistan, where cricket is an obsession and a way of life.
That their players – their heroes, their icons – may have been involved in such a monumental scandal will be hard to swallow. That would be true at the best of times, but especially now, with Pakistan grappling with catastrophic flooding and a destabilizing terrorist insurgency.
The ray of hope and inspiration the players could have provided in the overseas Test series against England has been dramatically extinguished. The team was thrashed by their hosts, and have been publicly humiliated.
Many sports can be the victims of match-fixing, especially in the era of spread-betting where pundits can gamble on anything from the winner to the tiniest details of a match. Cricket is especially vulnerable, and it has been tarnished often in the past. Pakistan cricket has been faced with such allegations since the 1990s and already this year, several serious claims - yet to be proved - have been made.
The Pakistan Cricket Board (PCB) needs all the friends it can muster right now. Last year's deadly and brazen terror attack on the Sri Lanka team in Lahore means that no-one will travel to play cricket in Pakistan, seriously affecting the PCB's capacity to generate finances. That attack –- in which eight people died - also cost Pakistan the right to co-host next year's lucrative World Cup. The sight of both teams leaving the stadium in a military helicopter could have been the death-knell for the sport in Pakistan.
You could hardly have scripted a worse series of events for a national sports team. I haven't even mentioned the controversial death of their coach Bob Woolmer following their shock elimination from the last World Cup in the Caribbean. For weeks, the Jamaican police conducted a murder investigation, before deciding Woolmer had died from natural causes.
Through all of this, the team has survived. They have some incredibly talented young players and of course a devoted fan-base back home. But how many knocks can they take?
If true, some are hoping that these revelations will prompt a thorough cleansing of the sport in Pakistan. But even then, security remains a serious domestic issue and the integrity of Pakistan cricket may have been irretrievably damaged.