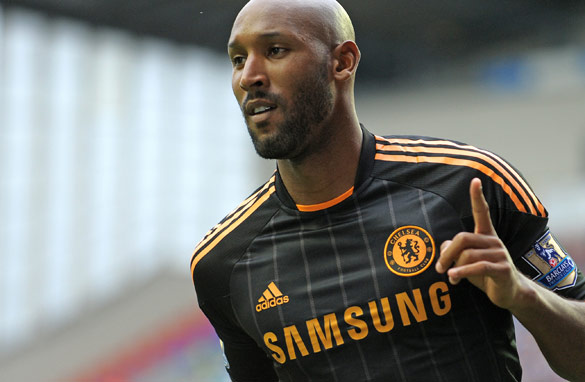 Nicolas Anelka has garnered praise and criticism throughout his football career.
Is it ever right to challenge the status quo? Should you not say yes when you mean no? Should you ignore the consequences to question, criticize and reject that which you find unpalatable?
Well, if you're anything like Nicolas Anelka, you should. "Le Sulk," as he's known, has just completed a typical period of extremes in which he was banned from international football for 18 games following his dismissal from the French World Cup squad for insubordination.
His response was to laugh at the French Football Federation's (FFF) public show of righteous indignation before promptly showing that he's unaffected by their finger wagging. Two goals in Chelsea's 6-0 defeat of Wigan in the English Premier League, followed by a mock act of contrition with Didier Drogba during one of the goal celebrations, suggested the Frenchman remains unbowed.
Anelka, 31, is nothing if not an enigma. Eight clubs in a 15-year career points to a man who finds it hard to make friends and settle. And when you add to that the fact that acrimonious relationships, like the one he had with France coach Raymond Domenech, have become the norm for him, it's easy to label him as a "problem".
Yet still big clubs, such as Arsenal, Real Madrid, Liverpool, Manchester City and Chelsea have sought to employ him. In fact, his collective transfer fees of some $140 million, make him second only to Cristiano Ronaldo in terms of the money spent on acquiring him.
Why might that be? Well, to start with, he remains a prodigious talent, capable, when sufficiently motivated, of pace, power and artistry that make him a stand-out player even in a team of stand-out players. He also appears to be a man who stands by his principles, refusing to apologize to Domenech for his South African tirade because he still believed in the premise of what he said.
This stance cost him a World Cup berth, just as in the past his obstinacy cost him dear at Arsenal and Real Madrid. But he took it on the chin without complaint rather than compromise. That's not sulking, that's character. And none other than his Chelsea boss - Carlo Ancellotti, publicly praised Anelka for his actions, calling him "an honest man."
That won't change anyone's view of him though, because, like Eric Cantona, Roy Keane, Diego Maradona and a number of other fiercely principled, opinionated individuals, Anelka's reputation goes before him. It's a self-fulfilling prophecy in which it's easier and more convenient to put a negative slant on the things he says and does than it is to take the time to know and understand the player and his motivations.
So, to many, Nicolas Anelka will forever be remembered as talented enfant terrible who refused to toe any line that, in his opinion, did not need toeing. And you know what? If he cares at all, I bet he wouldn't have it any other way.