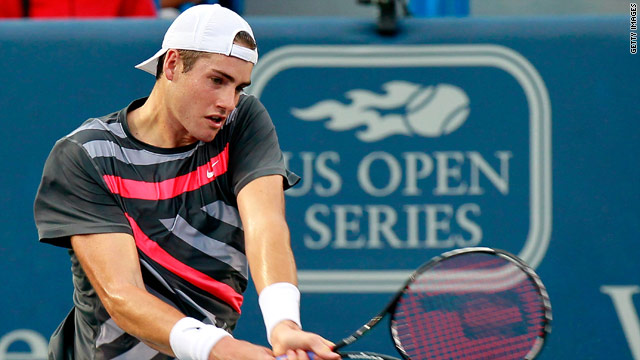 John Isner proved a hero at Wimbledon but can he become a grand slam winner at Flushing Meadows ?
In the not so distant past, the U.S. Open was dominated by American tennis legends such as Pete Sampras and Andre Agassi and before that John McEnroe and Jimmy Connors, but going into next week's final grand slam home hopes are slim at best.
Andy Roddick may have moved back into the top 10 in the world rankings and Mardy Fish pushed Roger Federer all the way in the Cincinnati final, but it's really hard to make a case for a home player to triumph at Flushing Meadows.
Strip away the Williams sisters (Serena is injured for the final grand slam of the year) and Roddick and the cupboard is worringly bare, and none of that illustrious trio is getting any younger.
The USTA, rather like their counterparts at the LTA in Britain, has come under heavy criticism for not producing the successors to the likes of Sampras and Agassi, or even Roddick, despite the huge revenues raked in by their home grand slam.
The outspoken McEnroe, is putting his money where his mouth is, fronting up an $18 million academy on Randall's Island in New York, believing that future lies in properly developing grassroots talent from urban areas.
His initiative has received almost universal acclaim and it is hard not to wish McEnroe well in his venture, but the need to develop new talent is urgent, not least because both the ATP and WTA Tours rely heavily on big-money tournaments in North America.
Once the likes of Boris Becker and Steffi Graf retired, tennis in Germany became far less popular, with sponsors departing the scene so it is not far fetched to imagine a similar situation developing in the U.S.
It's time now for the young pretenders in the U.S. game to step up to the plate and become genuine grand slam contenders, starting next week at Flushing Meadows.
Here are five players, all ranked in the top 50, who might defy the odds, but they will be long shots at best.
1) John Isner: Who can forget his incredible exploits at Wimbledon where he created tennis history in his 11-hour epic against Nicolas Mahut ? It showed incredible mental tenacity and the 2.06 meter giant is also the highest ranked U.S. male bar Roddick at 20. Ultimately he will want to be remembered as a grand slam winner rather than a marathon man, so here's his chance.
2) Mardy Fish: Up to world number 21 after his Cincinnati exploits and boosted by back-to-back tournament wins at Newport and Atlanta, beating Isner in the final in the latter. He has shed an incredible 14kg due to a tougher training regime and is starting to regularly beat higher-ranked players.
3) Sam Querrey: The third of the Americans bunched together in the rankings at 22, he has flat lined around this mark for the past year, but showed his talent by winning the prestigioius Queen's Club title just before Wimbledon as well as three other ATP titles this year. He has yet to go beyond the fourth round in his previous grand slam attempts.
4) Donald Young: Has needed one of the wildcards dished out by the USTA to get into the main singles draw. As a teenager, Young was lauded as a future grand slam champion and reached the third round of the U.S. Open in 2007 before his progress stalled alarmingly. There are some signs the now 21-year-old from Atlanta might fulfil his early promise in which case the USTA would breath a sigh of relief.
5) Melanie Oudin: Reached the quarterfinals at Flushing Meadow last year as a 17-year-old and is the only U.S.women's player in the top 50 outside of Serena and Venus, so no pressure there then. Her performances in 2010 have hardly matched that weight of expectation but perhaps she can match her 2009 heroics where she beat Elena Dementieva and Marai Sharapova no less.
Unfortunately, this is all rather clutching at straws and it could still be the case that a relative unknown, like Oudin last year, will burst to prominence and come to the rescue of U.S. tennis, but don't hold your breath.