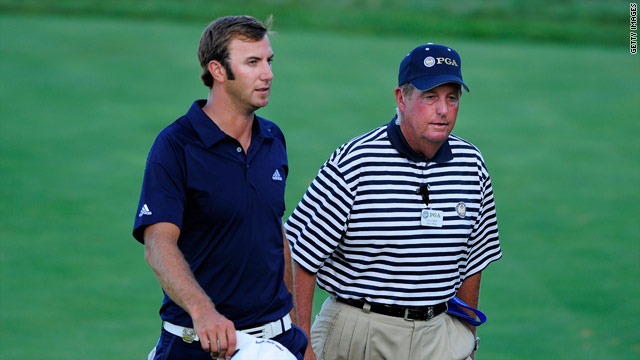 Dustin Johnson walks off on the 18th accompanied by a PGA rules official.
The theme of the week at Whistling Straits was the relentless march of golf's young guns as they continue to sweep away the old guard and sure enough 25-year-old Martin Kaymer became the latest major winner.
But it was a massive controversy centered on another rising young star, American Dustin Johnson, that will be the abiding memory of this year's PGA Championship.
Leading Kaymer and Bubba Watson by a stroke playing the 18th, his tee shot found one of over 1,000 sandy hollows which pit the links-style course in Wisconsin.
Surrounded by a mob of fans and marshals, Johnson had little other thought than locating his ball and then finding the green with his second shot because a par-four would be enough to secure his first major title.
Unfortunately, the 26-year-old from South Carolina and his caddy should have been a little more careful because unbeknown to them his chances of glory disappeared the minute he grounded his club in the sand.
A bogey five - he missed a shortish putt for par - initially left Johnson in a tie with Kaymer and Watson at 11-under, but then came the horrible realization he had made a costly blunder.
Local rules at Whistling Straits deem all such sandy areas, however small, as bunkers and it is an automatic two-shot penalty for grounding your club in those circumstances.
It is hard not to feel sorry for Johnson, and Kaymer when he spoke with me, was very sympathetic to his plight, also pointing out that it was really just as well he did not make that par putt on the last and then had victory taken away in such circumstances.
But all that aside, the rules is the rules, and a copy of the local version had been posted on the noticeboard in the clubhouse for all the players to study.
With a $1.35 million prize check for the winner, Ryder Cup places at stake, not to mention a chance to claim a place in golfing history, a few moments spent inwardly digesting such information is the very least one would expect from a top professional and his connections.
Particularly on such a quirky course as the Pete-Dye designed layout which posed a series of unusual challenges.
Johnson will hopefully learn from this debacle and his U.S. Open last-day meltdown, and re-emerge as part of the new wave of twenty somethings - like Rory McIlroy, Ricky Fowler, Ryo Ishikawa and Jason Day - who are promising to dominate the majors for the foreseeable future.
Their message to the faltering Tiger Woods and now 40-year-old Phil Mickelson is crystal clear. We do not fear you and we'll happily knock you off your pedestal.
Having said that, it is difficult to imagine the world number one or two making the sort of blunder the youthful Johnson did with victory in his grasp, so perhaps experience does still count for something in golf.