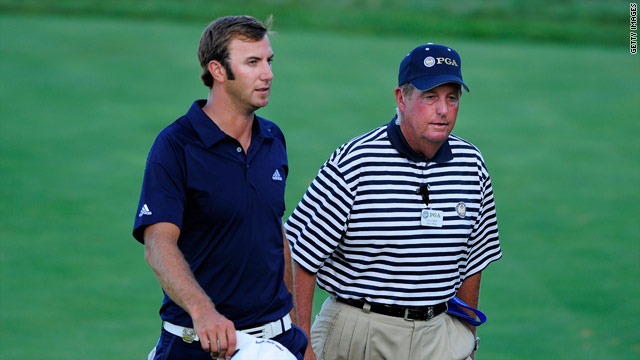 Dustin Johnson walks off on the 18th accompanied by a PGA rules official.
The theme of the week at Whistling Straits was the relentless march of golf's young guns as they continue to sweep away the old guard and sure enough 25-year-old Martin Kaymer became the latest major winner.
But it was a massive controversy centered on another rising young star, American Dustin Johnson, that will be the abiding memory of this year's PGA Championship.
Leading Kaymer and Bubba Watson by a stroke playing the 18th, his tee shot found one of over 1,000 sandy hollows which pit the links-style course in Wisconsin.
Surrounded by a mob of fans and marshals, Johnson had little other thought than locating his ball and then finding the green with his second shot because a par-four would be enough to secure his first major title.