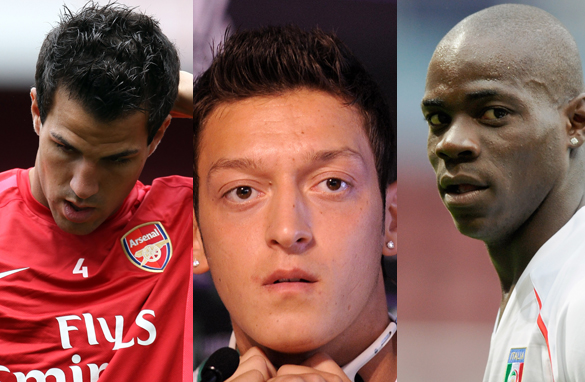 Should Cesc Fabregas (left), Mesut Ozil (center) and Mario Balotelli (right) have shown more respect?.
Am I the only one getting tired of all the stories involving unhappy, ungrateful, unappreciative footballers who whine and complain every time they want to change team?
"I wish I could play for this club. I wish I could play for that club. I am so unhappy where I am."
The close season saw three transfer sagas filling the front pages of many of Europe's sports newspapers, and I am honestly bored of them. No prizes for guessing what the first story is. It made the headlines for a solid month and it involved Cesc Fabregas' "dream" to return to Barcelona.
Now everyone has a right to want to go home, but let's take a closer a look at the sequence of events involving the Spain midfielder.
When Cesc left the Camp Nou as a 16-year-old kid, he did so because he was promised a bright future at Arsenal and his family were no doubt enticed by the riches of the English Premier League. Cesc left because he wanted to, not because he was forced.
Fast-forward to 2010, and it is easy to see that it was a good decision. Thanks to the investment made by Arsenal and manager Arsene Wenger, Cesc has developed into a top player. He is the Gunners' captain and one of the top earners in the world's most lucrative league.
So what has the club got in return? Well, on the pitch, frankly not much; as Arsenal haven't won a trophy in five years. Off it, Cesc hasn't had much to offer either.
During the months of June, July and August he lobbied, behind the scenes, for a move back to the Catalan giants. Never mind the fact that he still has a contract until 2015. Never mind that his mentor, Wenger, sees him as the centerpiece of a team that can challenge for titles in the near future. On a whim, Cesc decided it was time to go home and had little regard for anyone around him at the Emirates Stadium.
Credit to Arsenal, they stuck to their guns and refused to sell their top asset. The club rejected an offer reportedly worth around $50 million from Barcelona. As a result, Cesc now has to swallow his pride, take a long look in the mirror and show love for the club and fans that have always loved him.
Let's move to Italy for another transfer story which had more episodes than a Mexican soap opera. It involved Mario Balotelli. The fiery forward and his agent filled daily column inches, with their incessant pouting and pleading, as they worked on a move to Manchester City.
In my mind there was no doubt Balotelli was going to leave Internazionale. Following countless spats with teammates and coaches over the last couple of seasons, he had no chance of staying at the San Siro.
However, he should have shown greater respect and gratitude to a club that gave him his big break in Serie A. Before playing at Inter he was a little-known rough diamond; the Nerazzurri played a crucial role in shaping him, a fact which - even with his temperamental nature - he should have remembered.
The last saga I want to address features Mesut Ozil, and this one is still ongoing. After a phenomenal World Cup, the young midfielder has been linked with Barcelona and Real Madrid.
Ozil still has one more year on his contract with Werder Bremen, but he seems to have forgotten about it. The 21-year-old has repeatedly stated his desire to move to Spain and also expressed his frustration at having to spend another season in Germany.
Reading a few quotes attributed to the playmaker, you actually get the impression he is being held at Bremen against his will. Strange, if you consider that over the last two seasons he has been the focal point of the team and repeatedly stated his affection for the side and the city. Go figure.
My advice to Mesut and all other players trying to force their way out of clubs is simple: stop and think. Think about how you got where you are and appreciate the role others have played. If you have a contract, honor it, and even if you want to leave don't whine about it constantly in the press. Be quiet, respectful, and let your agent do his work.
You will be respected a lot more. By the club you are leaving and the one you are signing for.