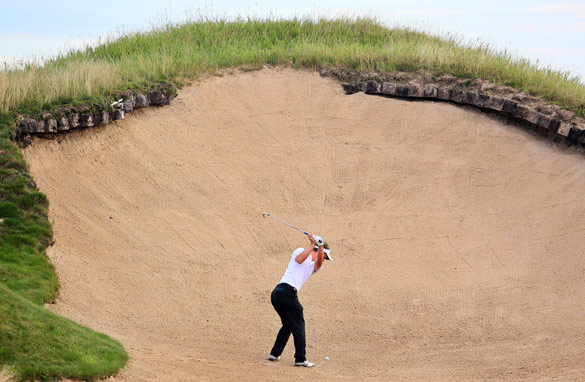 Luke Donald plays his way out of a bunker at Whistling Straits at the PGA Championship on Friday. (Getty Images)
Kohler, Wisconsin (CNN) - I like Whistling Straits, home of this week's PGA Championship. It's not just that it looks spectacular either. Nestled along the rugged shores of Lake Michigan here in the beautiful state of Wisconsin, it's a privilege to say this is actually my second visit to this part of the world.
The course is about an hour's drive from Milwaukee where we're staying, and while it's quite a trek to get here it really is well worth it. It's not just that the people here are so warm and welcoming either. No, I think it's possibly something to do with the fact that, on seeing the course, I feel very much reminded of home.