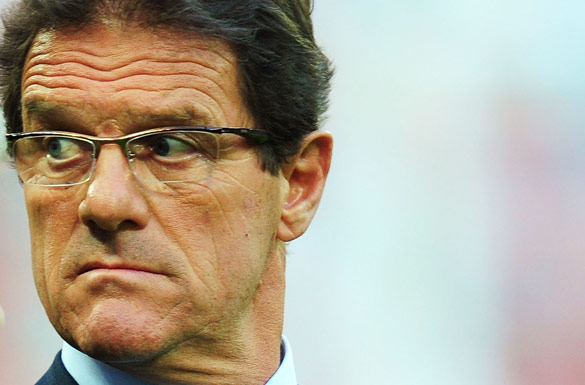 Has Capello lost the plot?
London, England (CNN) - What has happened to soccer coach Fabio Capello? How could a man with the Italian's experience end the international career of an football icon such as David Beckham first, with an off-the-cuff remark to the world's press, and second, without having informed the player beforehand?
Beckham, love him or loathe him, surely has a record that deserved better treatment. The most capped outfield player in England's history (115 appearances), the midfielder, who was made captain in 2000, had played in three World Cups for his country.
In shirt sales alone, the 34-year-old must have contributed more to the Football Association's coffers than any other player, as Beckham's global fan base rivals the biggest superstars.
Such lack of judgment from the usually media-savvy Capello continues the reputation-erosion that has affected the 64-year-old's once impenetrable high regard in the world of football.
He was previously a model of the elite modern coach: tactically astute, multi-lingual, press-prepared and with a personality and record that could command respect from even the most petulant of modern-day, millionaire footballers.
After playing for both AC Milan and Juventus as a young man, Capello forged a formidable career as a club coach by winning four titles and a European Cup for the Rossoneri, two league titles with Real Madrid, two with Juventus and another with Roma.
It was his stature and the former striker's disciplinarian approach, that reinvigorated a beleaguered England team, who under his guidance, flamboyantly qualified for the 2010 World Cup as the top-scoring side from Europe.
A reputation takes a lifetime to build and minutes to lose so the saying goes, and though in Capello's case the time period has been months, there can be no doubt that a figure who once seemed untouchable is now showing major fallibility.
England's showing in South Africa was nothing short of a disaster; Capello's inability to mold a strong team ethic as well as his lack of tactical creativity were laid bare for all to see.
His refusal to quit after such a performance showed commitment to his contract but bucked a trend in international football (France apart) where coaches leave their post after failure in a major tournament.
The lack of respect shown to a living legend, no matter how right the decision maybe, will only surely add to a growing feeling that Capello has lost his Midas touch.