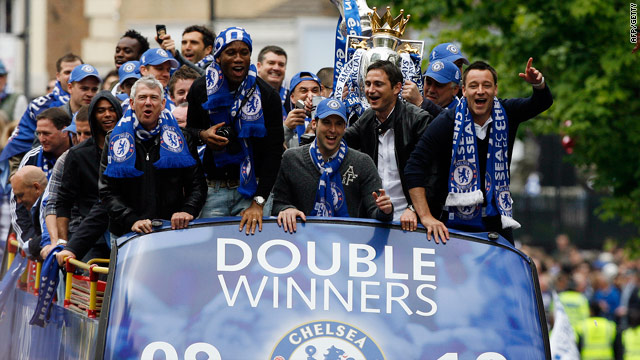 Chelsea celebrated the Premier League-FA Cup double last season.
London, England (CNN) - As the start of the English Premier League season looms large, it is time to look at what we can expect to happen over the next nine months; to predict which side will vanquish all others to emerge victorious.
Well, I believe there are three main title contenders with two outsiders also harboring realistic hopes of glory. The leading contender for the crown this season is Manchester United.
They have the perfect balance of youth and experience and, after falling just short last season, I definitely think there is a new sense of purpose at Old Trafford.
The signing of Javier "Chicharito" Hernandez was a masterstroke since the young Mexican international will inject new energy into a front line that, with the exception of Wayne Rooney, looked lethargic last season.
Man United sweep aside Chelsea in Community Shield
The addition of defender Chris Smalling will also give more depth to the United back-line who struggled to cope when the center pairing of Rio Ferdinand and Nemanja Vidic succumbed to injury.
Manager Alex Ferguson shows no signs of a diminishing desire to win more trophies either, and will have an extra incentive to claim top spot now that an old adversary has regrouped.
That is because Liverpool - who share the all-time record of winning 18 English league titles with United - have in Roy Hodgson, the right man to orchestrate a much-needed makeover.
Personally, I never liked the way the Reds played under Rafael Benitez, they were too mechanical and easy to predict. The Spaniard also wasted too much money on mediocre players and failed to motivate the stars last season. Steven Gerrard may have even left if Rafa had stayed.
As far as Hodgson is concerned, I really like the moves he has made in the transfer market bringing in talented British players. Joe Cole is probably the most technically gifted English midfielder around, Danny Wilson could grow into a great central defender and Jonjo Shelvey also looks promising.
With Gerrard returning to form and Fernando Torres healthy, I could see this team having the right chemistry to challenge for the title.
Moving south to London, Arsenal haven't won silverware in five years but that drought could come to an end this season because in my mind The Gunners are finally ready to mount a challenge for the title again.
Cesc Fabregas staying at the club was Arsene Wenger's best "signing" of the close season, and providing the French manager now goes onto buy a decent goalkeeper, Arsenal will be be a major contender.
There are so many skilful players in this squad and if the likes of Robin Van Persie and Theo Walcott can stay healthy, this team will score goals for fun. Don't forget that Carlos Vela, Jack Wilshere and Aaron Ramsey have matured over the last campaign and could have an important part to play.
Those are my top three title contenders. You may be shocked that I left out the defending champions, but in my view Chelsea will struggle to hold onto their title, they will be outsiders this season.
The lack of new faces at Stamford Bridge means there could be a sense of stagnation at the club. Most players in the starting eleven have been with the Blues for several years and have enjoyed plenty of domestic success.
Manager Carlo Ancelotti will prioritize winning the European Champions League and their form in England will definitely suffer. Expect Didier Drogba and Frank Lampard to finish the season with disappointing numbers.
They are getting older and will not be able to combine for 30 or 40 goals like they have done so regularly in the past. Even with Ghana's Michael Essien back from injury, Chelsea will be too slow and too predictable.
Not signing a major new talent in the close season has been a missed opportunity, now they won't be good enough.
My second outsider is Manchester City, because a team that has a squad boasting the talent and depth like this one cannot be ignored. Roberto Mancini is not the right man to lead this group of players to the title, but they will push the favorites all the way.
Besides a manager who has a strong character, this team needs another world-class central defender before it becomes the final product. Neither Kolo Toure nor Joleon Lescott fit that description.
As much money as the team owners have spent on midfielders and strikers, they should have dished out some serious cash on center backs that are proven winners. I would even look at someone like Ricardo Carvalho who is out of favor at Chelsea.
Carlos Tevez, Emmanuel Adebayor and Mario Balotelli may light up the Premier League, but this team is not ready to become champions ... not yet.