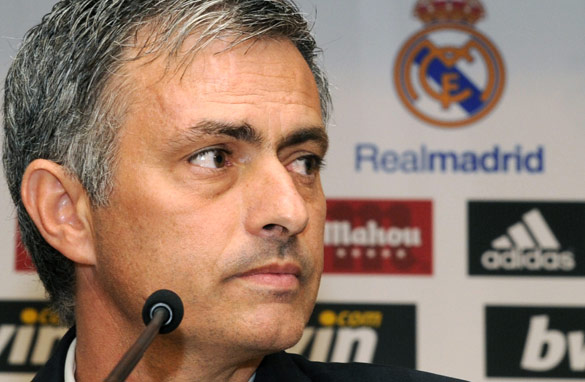 Jose Mourinho is unlikely to tolerate a repeat of Real Madrid's recent failures in the Champions League. (AFP/Getty Images)
London, England (CNN) - Real Madrid last won a knockout tie in the Champions League in 2004. True story. The most successful club in the history of the European Cup, lifting the trophy nine times, has not even come close to winning the competition in the last six years. This despite the fact Los Blancos have spent hundreds of millions of dollars buying some of the best players on the planet under presidents Florentino Perez and Ramon Calderon.
That's why Jose Mourinho has been hired. After season after season of galactico-caliber signings, Real realized that what they needed was a manager with a profile and an ego as large as the brightest stars shining at the Santiago Bernabeu.
As Real start their pre-season in the United States, I thought it was a good time to look at what we can expect from them this season.
I have to be honest with you. I am really looking forward to the new instalment of La Liga, with the Real vs Barcelona duel front and center. Last season, these teams were both fantastic. Even though Manuel Pellegrini was sacked in June, he still presided over a record-breaking season at the Bernabeu. They may have finished behind Barcelona in the final league table, but they would have been worthy champions if they had managed to pip the Catalans down the stretch.
If they had won the title, maybe the Chilean manager would have stayed, but since they didn't, Mourinho's dynasty kicks off this summer with the world watching and wondering how Real will do.
So what will change this season? For a start, expect Mourinho to improve the team's defensive organization. It was one of the trademarks of his Inter Milan team that won the treble last season, and the Portuguese manager will make sure Real don't concede as many goals as last season, especially at home. Los Merengues won 17 of 18 league games in Madrid, but they conceded more than one goal in seven of those contests.
What can we expect from Cristiano Ronaldo? His first season at Real was phenomenal as he finished with 33 goals in 35 games. I predict his sophomore year will offer many more highlights, but I actually think Ronaldo, who will be wearing his favourite number 7, won't score as many goals. He won't need to. Many times last season he had to do things on his own because the team depended on it. With Mourinho, the team will be more organized and he won't need to be the superman he was at times last year.
One variable, which will definitely affect Ronaldo's role with Real, is Kaka's future. Rumours have been intensifying regarding a possible transfer to Chelsea, and if it happens, it would see Ashley Cole moving the other way. At the moment there is no proof that this will happen, but if it does it will definitely influence the way the team plays.
I believe it would be a mistake to let Kaka go. He had, by his own admission, a disappointing first season in Madrid, but he struggled to stay fit and also played out of position at times. A fully fit and integrated Kaka would give Real a different dimension going forward and I hope he stays in Spain.
Whether the Brazilian stays or goes, Real will compete on all fronts. How many trophies will they win? It's a little too early to call. However, one thing is for sure. There is no way Real's losing streak in the knockout stages of the Champions League will last another year. The Portuguese manager won't allow it. They don't call him the Special One for nothing.