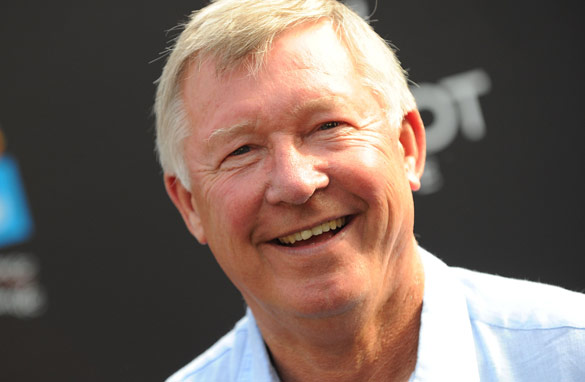 Alex Ferguson has shown a more genial side of his personality on tour in the United States. (Getty Images)
Atlanta (CNN) - "Good interview." Alex Ferguson shakes my hand. "Good interview, son," he says again, patting me on the back. Alex Ferguson is my dad!
Could that be the same Alex Ferguson who can freeze a journalist at a hundred paces with his curt replies and icy stare? The same man whose infamous "hairdryer" blasts of discontent can turn superstar footballers into quivering schoolboys? The same Alex Ferguson who signaled the end of David Beckham's Manchester United career with a much-publicized kick of a boot that gave Becks an eyebrow parting that certainly wasn't a fashion statement?
Yes, the very same.
I mean, let's be honest, if you think of Alex Ferguson, what image comes to mind? For most it's a red-faced, no-nonsense Scot, who rails against referees, rival managers and the football authorities with impunity. What is he rebelling against? What have you got?
As a result, it should come as no surprise that I, like many before me, approached my interview with the 68-year-old with a bit of trepidation.
Yes, he's the most successful manager in the history of English football, an icon of the game, and he manages arguably the most famous club in the world, so clearly anyone who loves football, as I do, should jump at the chance to talk with him.
But there is the flipside, in that his image is just a bit scary. Will he be in a good mood? Will he find my questions stupid? Worse still, will they be irritating? And, if so, will there be any flying boots that I might have to avoid?
All right, the latter is an exaggeration as the interview in Philadelphia during United's pre-season tour of the U.S. was set for a hotel, not a changing room, but you get my drift. However, I soon discovered that the Fergie we think we know (you see we're on nickname terms now), is not the "Mr. Angry" caricature he's often made out to be.
"How do you stay motivated after 24 years at Old Trafford?" I asked. He gave me a full, well-trodden answer. "You didn't win much last year. Is this a transitional period for United with so many players on or above the cusp of 30?" He started to veer off script and expand. "Does United have the time and patience to let home-grown youngsters bed down in the first team when the likes of Chelsea and Manchester City are able to plug any shortcomings by paying gazillions for ready-made superstars?"
He was into his stride now and as expansive and friendly as your favorite uncle. Well, a favorite uncle who just happens to be the driving force behind a global franchise.
It was Fergie unplugged. Open, ebullient, insightful - heck, he even turned raconteur at one point, regaling me with a story about how his wife got him to abandon his scheduled retirement in 2002 because she wanted to keep him out of the house.
It was great, and by the end of our meeting it felt more like we'd been having a good old chat than a question and answer session, and clearly the feeling was mutual.
So why am I telling you this, other than to name drop? Well, it's just that nowadays we so often seem to paint our celebrities as one thing or the other. Tiger was all good, now he's all bad. Roger Federer's a nice guy. Serena Williams is feisty. Lebron James, if you're from Cleveland, is an ungrateful, disloyal mercenary... etc. etc.
But the fact is that most of the time we're only getting the two-dimensional view of our heroes. We don't know them, we just think we know them from what we've read, what we've heard, and what we've seen. And often the reality is quite different, or at least a grayer version of the preconception.
Okay, Ferguson was on a pre-season tour - no pressure, no issues, so therefore no problem. He could afford to be relaxed, and he was, even telling me before the interview that I didn't need to call him "Sir Alex," despite him being a knight of the realm. But I'd like to think that it was more than just the laidback atmosphere.
Perhaps in the absence of any external forces, I got a glimpse of the real Alex Ferguson. A man who's occupied one of the toughest jobs in sport for 24 years, yet about whom no-one who's been close to him, not even Becks, has a bad word to utter.
"You should never meet your heroes," so the saying goes. But, on this occasion, I'm very glad I did.