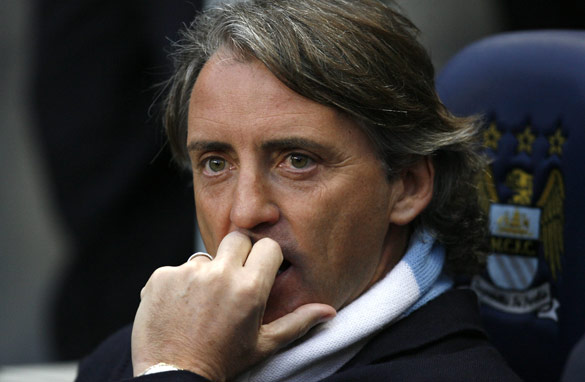 Roberto Mancini will have his work cut out to win the Premier League title this season. (Getty Images)
London, England (CNN) - Players win games, teams win championships. Manchester City, who have spent over $100 million this summer already, evidently think if they get enough star players, they will win enough games to lift the English title at the end of the season.
The Premier League club, bankrolled by billionaire owner Sheikh Mansour, has made the biggest splash in the summer transfer market, bringing in Yaya Toure, David Silva, Jerome Boateng and Aleksandar Kolarov. They are also closing in on Mario Balotelli. However, as impressive as these signings are, will they gel into a unit that can fight for the Premier League title? I personally don't think so.
Rome wasn't built in a day, and a championship team isn't either. Manager Roberto Mancini will have less than three weeks to make his new players assimilate his tactics and his playing style. In my view, this is not nearly enough time. And by the time he gets it right, it may be way too late.
Let's have a look at what his starting XI could look like on opening day:
GK Shay Given
DF Aleksandar Kolarov
DF Kolo Toure
DF Joleon Lescott
DF Pablo Zabaleta
MF Yaya Toure
MF Gareth Barry
MF David Silva
FW Mario Balotelli
FW Carlos Tevez
FW Emmanuel Adebayor
There is a lot of quality in this side, no doubt about it. However, only two of these players (Given and Zabaleta) were at the club at the end of the 2008-2009 season and many haven't even played a single minute for City. Basically, this is a group of individuals right now, rather than a team, and going back to the first line in this article, I don't think they will be able to work together enough to come out on top when the season is done and dusted.
You may be thinking right now that Chelsea won the league in Jose Mourinho's first season when he brought in nine new players, so City could also do it. Yes, they could, but Jose Mourinho is at least five times the manager Mancini is. He has more motivational skills and a stronger personality. He is infinitely better at convincing players that they need to do things his way, while Mancini is more passive and diplomatic.
I could easily see the atmosphere in the Manchester City dressing room getting tense if some of the star players don't get enough playing time, and I could easily see Mancini not being able to diffuse the situation. The potential signing of Balotelli could be particularly problematic. He is a great talent but also carries a lot of emotional baggage. The Italy international has proven time and time again at Inter that his ego needs constant stroking, and he may struggle to fit in at Eastlands.
So expect the traditional contenders to battle for the title this season in England. I expect Manchester City to finish in the top four, but they won't win the Premier League. At least not yet. Money can't buy you love, and it can't buy you championships either.