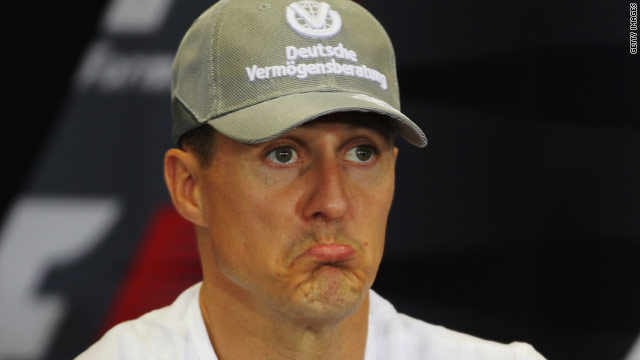 Schumacher has cut a gloomy figure for much of his comeback season in F1.
The alarm bells will no doubt be ringing loud and clear in Michael Schumacher's helmet after another disappointing display in qualifying for his home grand prix.
Eleventh fastest would have simply been unacceptable for Schumacher in the past, but it is now becoming the norm.
Since his return to the racetrack for the 2010 season after a three-year hiatus, Schumacher has looked a shadow of his former seven-time world champion self and it's beginning to look like a big mistake.
After the first 10 races, the statistics paint a horrid picture.
Schumacher struggles as Vettel claims pole
Not a single podium finish, let alone a win, leaves Schumacher down in ninth in the drivers' championship - 109 points off leader Lewis Hamilton.
It's a statistic brought into sharp relief by this weekend's German Grand Prix at Hockenheim, a race Schumacher once made his own, winning it four times - but now he's among the also rans.
Supporters will say that the plan was for the German to ease his way back into competitive action over the course of a three-year deal with Mercedes.
Yet one cannot help but be alarmed, and amazed, by Schumacher's early struggles.
So the question is: whatever happened to the former Ferrari driver who won a record 91 races and 154 podium finishes? The machine who managed a remarkable 12 straight wins in 2004 on his way to another title?
Some say it is because he is driving an inferior car, and it's clear that the former Brawn GP team are now looking to next year to develop a winning combination.
But take a look at his teammate Nico Rosberg, who is having his best F1 season as he continues to outperform his vastly more experienced compatriot.
The 25-year-old Rosberg, sixth in the current overall standings, boasts a 54-point lead over Schumacher and has already recorded three podium finishes as well as regularly beating him in qualifying, as he did again in Germany.
So what is reason for Schumacher's struggles ?
At 41, could age play a part? Surely not, especially when you consider Juan Manuel Fangio's famous win at the Nurburgring in 1957 which saw him win the last of his five world titles at the grand old age of 46.
Neither can fitness be an issue. Schumacher is a fitness junky who built much of his F1 legacy on being in peak condition.
Could it be the neck injury he suffered which stopped a dramatic return to Ferrari in 2009?
Perhaps. The weight of a driver's helmet can multiply by up to factor five when cornering, and for that very reason the neck is the most vulnerable area.
Despite team doctors saying Schumacher's neck has fully recovered, it is one thing getting over the injury physically and another psychologically.
But the greatest record-breaker of them all isn't someone who ignores a challenge.
It would be foolish for anyone to completely rule out "Schuey" proving that class is permanent.
Mercedes GP CEO Nick Fry, for one, has continued to rally behind him and remains confident that he will, given time, prove his doubters wrong.
And Fry may indeed be right. The iconic Schumacher we've become accustomed to may yet reappear and show everyone he is still a formidable racing driver.
As far as this season goes, only time - and nine more races - will tell.
Problem is, time is running out.