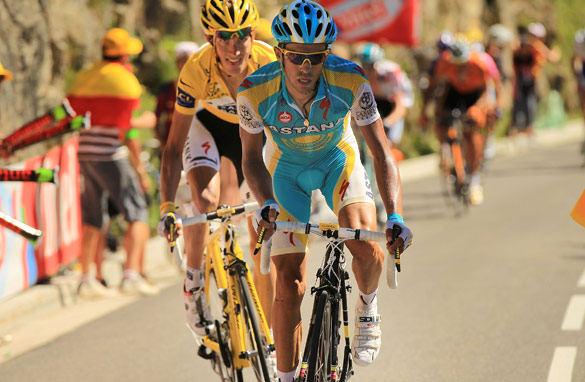 Alberto Contador leads his main rival Andy Schleck in the Tour de France. (AFP/Getty Images)
(CNN) - Arcane ideals of sportsmanship often seem out of time in a modern world of professional sport in which doping, match-fixing, handballs and controversies over referees, umpires and technology long ago clouded the Corinthian spirit to which purists still cling.
Given that cycling has long been tarnished by allegations over doping - arguably the most cynical and premeditated way in which a competitor can seek to gain an advantage over a rival - casual followers of the sport might have assumed that a sense of fair play had gone the way of the penny farthing.
This after all, is the sport whose governing body announced the introduction of scanners ahead of this year's Tour de France to check for so-called "mechanical doping" - the use of hidden engines on bikes.
Yet, perhaps more than their contemporaries in many other sports, cyclists are still expected to adhere to a code of honor dictated by the traditions and rituals of the "peloton" - and never more so than during the Tour de France.
For riders, fans and scholars of the Tour's history, the overall leader's yellow jersey is a sacrosanct symbol which should not be sullied by allegations of misconduct.
That is what defending champion Alberto Contador is accused of having done on Monday when, on the slopes of the Pyrenees, he appeared to launch an attack at the exact moment that his main rival and "maillot jaune" wearer Andy Schleck's chain came off.
Tour tradition dictates that if the yellow jersey holder or a contender for overall victory in the race is delayed by a crash or mechanical mishap, his main rivals should wait for him to rejoin the group, the theory being that a great champion should win fairly and squarely, rather than benefiting from the misfortune of others.
It is a practice which has been habitually honored down the years, with Lance Armstrong and his main rival Jan Ullrich making a virtue of waiting for one another during the American's long years of dominance.
Earlier in this year's race, Schleck and others benefited from the tradition following a crash during an accident-strewn stage in which senior riders slowed the peloton to allow those affected to catch up, with yellow jersey wearer Fabian Cancellera even negotiating with race officials to cancel the traditional sprint finish because of the unusual circumstances.
By the time he reached the finish on Monday, Contador had gained enough seconds over Schleck to inherit the overall lead and cycling fans were in no doubt the Spaniard had stolen an unfair advantage over his rival, booing him as he was presented with the yellow jersey.
An angry Schleck meanwhile simply vowed revenge, saying: "I wouldn't want to take the jersey like that. I'm not the jury, but for sure those guys wouldn't get the fair play award from me today."
Contador initially denied wrongdoing, claiming that he had launched his counterattack before Schleck's chain came off and that he had passed him before he knew what had happened.
But he took a more conciliatory tone in a YouTube apology on Tuesday, admitting that he may have been in the wrong: "The race was in full gear and, well, maybe I made a mistake. I'm sorry. At a time like that all you think about is riding as fast as you can. I'm not happy, in the sense that, to me, fair play is very important."
Yet even the cycling world is split over whether Contador was right to attack. Some initially suggested that Schleck;s misfortune was owing to the lack of a chain guard - a piece of equipment some riders choose not to use because of the extra weight. But in an interview with the UK's ITV, a Saxobank mechanic said Schleck's bike had been fitted with a chain guard but it had become bent.
What's more, the incident happened in the heat of the attack, as Schleck, the superior climber, attempted to put Contador under real pressure for the first time in the race. Was the chain slippage then a consequence of the moment?
This after all was one of the most crucial and potentially decisive climbs on the Tour route; not a point when the peloton is rolling through sunflower fields with nothing at stake, when taking advantage of the yellow jersey wearer's misfortune would have been unthinkable. Great riders are expected to lock horns and race, rather than admire the scenery, when they reach the mountains.
Still, Contador's critics will argue that his attack can only tarnish his likely victory next weekend in Paris. While Schleck is considered a better climber, Contador is the better all round rider and, having lived with the Luxemburger in the Alps and the Pyrenees, the two-time winner had been expected to gain a decisive advantage in next Saturday's final time trial, a discipline in which he excels.
There are few competitors in any sport who would disagree that winning is everything - but Contador may be starting to realize that supremacy on a bicycle is the easy part when it comes to riding like a champion.