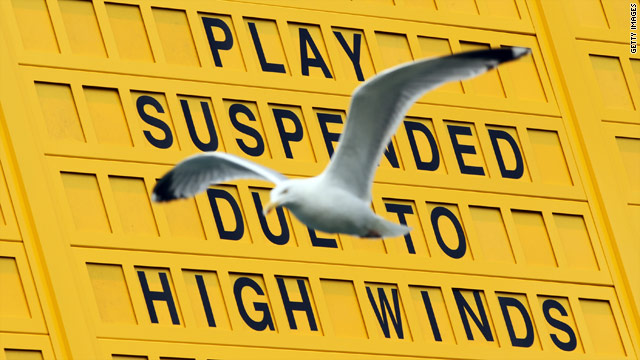 The scoreboard at St. Andrews tells the story of the second day.
St. Andrews, Scotland (CNN) - One of the reasons why the Old Course hasn't undergone any dramatic changes over the centuries is that the wind determines how hard the course will play.
And on Friday it became unplayable, forcing Open Championship organisers to suspend the tournament for about an hour. But even when the field returned the course was giving nothing up by way of birdies because the wind was the Old Lady's defense and the barriers were up.
We had calm but rainy conditions in the morning then sunny but near gale-force gusts in the afternoon and that meant no-one was going to challenge Louis Oosterhausen for the lead.
He got out early at 6.41am when the rain was drizzling and at times heavy but there was no wind. He shot a five-under par 67 and returned to his hotel room counting his blessings.
And that's just the way it goes in Open golf – the luck of the draw. It has been that way since the Open was first staged 150 years ago.
This is links or seaside golf and we have become used to watching the tournament unfold with the weather being the dominating factor rather than spectacular play.
It adds to the drama of the tournament and is just another test of nerves for the world's best golfers.
I enjoy watching them being put to the test and the Scots in the crowd have a wee chuckle when they witness the best in the world suffer under the conditions which are a part of their livelihood.
The players have to use their imagination to keep the ball out of the wind. And this is what major championships are all about -– calling on the best in the world to adapt and cope under extreme conditions.
The players in the afternoon just had to hang on and get back to the clubhouse without too much damage to their challenge for the Claret Jug.
There is as long way to go in this tournament and we will see many more twists and turns over the weekend, with or without the howling wind.