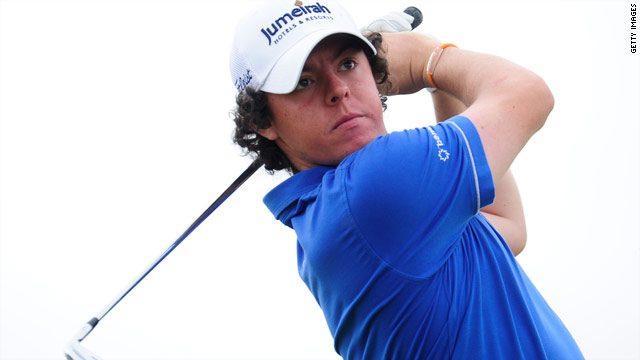 McIlroy swung superbly on his way to a nine-under 63 at St Andrews.
St. Andrews, Scotland (CNN) - When I saw Rory McIlroy win the low amateur, or silver medal, at his first Open Championship at Carnoustie a couple of years ago I was told he was a special talent.
So I have watched his progress quite closely. Since then I have joined him for a Living Golf show in his home town of Holywood, Northern Ireland, to explore how he came to be so good.
Then I witnessed him win his first professional event in Dubai last year (he won on the PGA Tour of America too this year) and now I have seen him equal the lowest round ever at an Open Championship.
The conditions might have left the Old Course at the mercy of the players but that round was something quite astonishing. He did it at St Andrews, just 45 minutes drive south of Carnoustie, the course where he put us all on notice.
Now aged 21 and with a load more experience under his belt there is absolutely no reason why he won't go on and win the 139th Open Championship.
His is a spectacular talent matched by and equally impressive temperament.
In a handful of professional rounds at St Andrews he has never failed to break 70. This course suits his big-hitting and bravery.
A player of his calibre can walk on to the drivable par 4s and confidently whack it as hard as he can, knowing that they can easily recover from the slightest mistake from the wide open surroundings.
And that is another reason why John Daly won here in 1995 and shot a six-under 66 on Thursday, to equal his best ever round in an Open Championship.
Tiger Woods has bagged two of his 14 major championships at St Andrews with victories by multiple strokes in 2000 and 2005.
Life has changed for Tiger since then but he still commands the same respect from golf's purists in Scotland.
He has batted the tough personal questions away during his press conferences this week and the crowds have been enthusiastically following him around the home of golf.
The world number one might not be in the prime of his golfing life but he is perfectly poised to spoil young Rory McIllroy's party.
And there will be many more remarkable twists and turns to come before we get another major winner on Sunday.