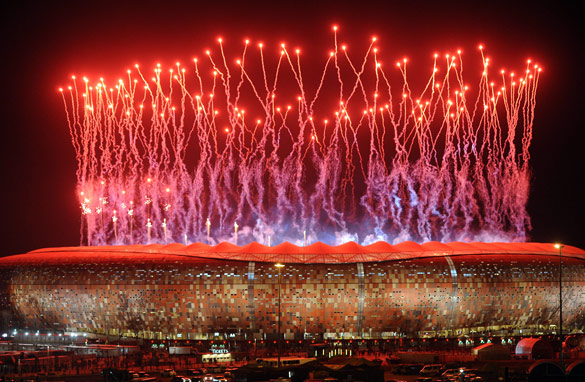 South Africa's Soccer City provided a stunning closing ceremony for the 2010 World Cup. (AFP/Getty Images)
Johannesburg, South Africa (CNN) - Now the sun has set on the first World Cup to be held in Africa, I'd like to share my abiding memories of a month spent following football's showpiece around the "Rainbow Nation."
From the highs of hospitable South Africans, the inconspicuous but much-hyped violent crime and the on-pitch artistry of Germany and Spain, to the lows of vuvuzela noise, lack of video technology and abysmal showings by heavyweights such as France and England, this tournament had it all...
Best player: Officially it was Diego Forlan, but I would have picked Andres Iniesta. The Spain midfielder is as skilful as Lionel Messi and pops up with crucial goals in big games. His trickery even made Arjen Robben look foolish at times during the final.
Biggest flop: Wayne Rooney. After his best-ever goalscoring season for Manchester United, England fans were hoping for more from the team's number 10. Too tired or played out of position? Probably a bit of both.
Best entertainers: As an Englishman, it was painful to watch at times but Germany's commitment to attacking football was thrilling. They were the highest-scoring team at the tournament, by a long way, with 16 goals.
Worst team: France were woeful. When you have players of the caliber of Evra, Henry, Anelka, Ribery and Malouda you should be able to muster more than a point from games against Uruguay, Mexico and South Africa.
Biggest controversy: TV technology. The only thing worse than the disallowed Frank Lampard goal and the wrongly-allowed Carlos Tevez goal was ruling body FIFA ignoring the controversy on its official website. Sepp Blatter says he likes debate – except when it's about the glaring need for referees to use TV replays.
Best stadium: Durban. Stunning design and not just the eye-catching arch. Helps that it's set in a city with a warm climate, even in winter.
Best fans: Full marks to Brazilian and England supporters for turning up to matches well after their teams were dumped out. The Dutch were as colorful as ever but the American fans had the best costumes – from astronauts to Elvis Presley outfits.
Biggest nuisance: The vuvuzela. Only enjoyable for those blowing it. Totally annoying for everyone else. When local stewards can spontaneously strike up a beautiful tribal hymn as they gather before a game, why would anyone try to argue that the vuvuzela is the sound of Africa?
Most laid-back: CNN cameraman Scott McWhinnie. A veteran of filming in several war zones, no wonder he was able to sleep anywhere, anytime.
Best steaks: The Old Greys rugby club in Bloemfontein. Run by a giant Afrikaaner called Dennis who looked as if he could pick you up and break you in two. But he was incredibly hospitable.
Most misleading: Reports of rampant gun crime and car-jacking. Either the police cracked down hard or these had been grossly exaggerated by the media before the tournament.
Biggest own-goal: FIFA's decision to detain more than 30 women for wearing orange mini-dresses. Not the way to stop unofficial World Cup sponsors from getting publicity.
Most humbling: Visiting Nelson Mandela's old house in Soweto. It's tiny, but housed a large family and still has holes in the walls from bullets fired by the police. The house is still bigger than most. Most of the small "sheds" are actually people's homes.