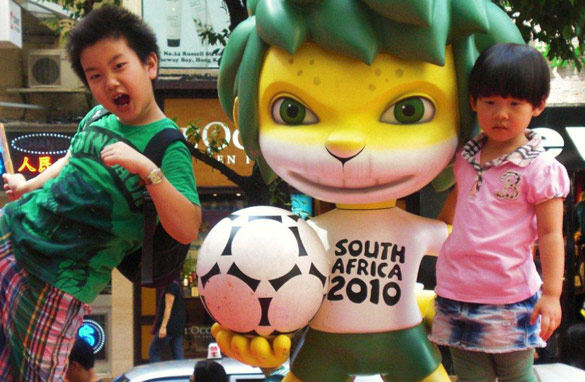 Children in Hong Kong pose with Zakumi, the 2010 World Cup mascot, before Sunday's final.
Editor's note: CNN's Hong Kong Operations Supervisor Matthew Booth watched every match of the World Cup on television in the wee small hours of the night from a cruel South-East Asian time zone. At the time of writing he is still married, still employed and not noticeably crazier than he was at the beginning.
Hong Kong (CNN) - It's finally over. The Spaniards have paraded their new shiny trophy around the stadium.
Across the globe, people have jumped into canals and fountains, weeping men are already regretting reckless tattoos, gushing women are naming their new babies Iniesta, and children are dreaming of the day when they might lift the famous old trophy themselves. Millions of inches of copy are rampaging across printing machines for thousands of publications worldwide, and I am at the end of my road.
As I finally turned off my wheezing television at 5:20 a.m. after watching ALL 64 games and 5,880 minutes of the world's best football, I inevitably began to think back on the incredible times of the last month. There have been some unforgettable TV moments on the way to the final, and what better place to reflect on them than my final diary entry from the couch?
So here goes...
Most thankless job: I'd have to salute the fearless steadi-cam operator at pitch-side for this one. These poor individuals traipse up and down tirelessly wearing a massive rig that makes them look like they're running for the bus with heavy shopping, and what thanks do they get for their wobble-free throw-in shots? They get spat at by Ronaldo, clobbered by Gabriel Heinze and clattered by slide-tackling defenders. So Steadi-Cam Operators of the 2010 World Cup, I salute you. Throw-ins have never looked so good.
Most revealing camera shot: A good contender for this one was the shot of the referee and linesman realizing they had got it horribly wrong on the sideline after the entire stadium had just seen a replay showing that Carlos Tevez's goal against Mexico was good enough to be used in a FIFA instructional video titled "The offside rule at its most obvious."
But even more revealing than that was the agony-to-ecstasy of Luis Suarez on his way down the tunnel after being sent off when he realizes that his blatant handball, and an unfortunate penalty=taking decision by Asamoah Gyan, had robbed Africa of a place in the semifinals. It was the celebration of a pick pocket who had been let out of jail on a technicality, and whether you agree with his actions or not, the shot of his celebrations have been burnt into the collective memory of this World Cup.
Best fans on TV: Very few fans could be heard above the din of the vuvuzelas, but visually there was a great deal to like. The Ghanaian fans with the painted clay pots on their heads, the Japanese dressed as skittles, the English Knights of St. George and the massive sea of orange that accompanied Holland on their march to the final all contributed to an extremely colorful World Cup. If only the North Koreans had all worn Kim Jong Il jumpsuits.
But the most surprising, and therefore fan champions, would have to be the Americans. The Captain America muscle suits and Abraham Lincoln outfits were almost a required dress code to join "Sam's Army." Well done to the American traveling band, now you just need to come up with a better chant than "Yoo Ess Eh! Yoo Ess Eh! Yoo Ess Eh!"
Best TV stadium: The magnificent and inspiring Soccer City in Johnannesburg would have won this hands down if it weren't for the awful state of the pitch. Sandy patches in the penalty box and corner flags are not okay for a World Cup final.
Rustenberg had the best pitch by a long way - you could have played snooker on it - but the most awe-inspiring stadium had to be Green Point in Cape Town. The perfectly-framed view of Table Mountain from certain camera shots inside the upper tiers would be hard to better anywhere in the world. Quite breathtaking.
Best show of emotion: Diego Maradona jumping into the arms of his coaching staff after the victory against Mexico, England coach Fabio Capello looking distinctly unhinged against Slovenia, and Dunga trying to rip the dugout to bits with his bare hands during the Brazil-Holland game were all worthy of YouTube.
My favorite, though, was North Korea's Jong Tae-Se weeping like an onion farmer during his team's national anthem. The way he kept trying to sing but couldn't get the words out through the blubbing was a nice change from the dignified tear or the stoic lip quiver that is customary on those occasions. Perhaps he was just terrified of Brazil.
Best slow-motion replay: The most amusing was certainly England defender John Terry launching himself sideways, six inches off the ground, trying to get his face in front of a Slovenian shot. For all the negative press he's been getting for his rather sad dressing-room revolt, this replay showed all his guts, dedication and determination to lay it all down for the cause.
But the best replay had to be Giovanni Van Bronckhorst's goal for the Netherlands against Uruguay in the semifinal. There was only a ball-shaped gap between the Uruguay goalkeeper's outstretched hands and the post, and that's exactly where he squeezed the Jabulani. In super slow-mo, it was beautiful enough to make your eyes well up.
So that's a small and by no means comprehensive selection of my favorite bits of this World Cup. No doubt you have different moments which stood out for you. I'd love to hear about them, so feel free to write some down in the comments section for everyone to enjoy.
Now life will return to normal. I walked around Hong Kong before the final, and the giant football-related displays were already being removed and replaced by Toy Story 3 propaganda. It was heartening to see there were still plenty of kids who preferred having their picture taken next to Zakumi than Buzz Lightyear.
When we get to the next World Cup in Brazil four years from now, maybe these kids will be old enough to stay up and watch. It seems a long time to wait. Long enough to get off the couch and start saving for a flight to Rio.