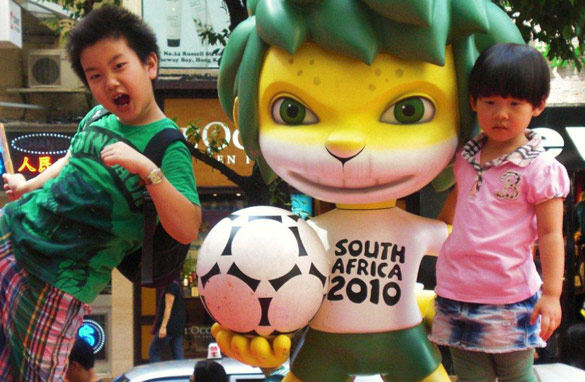 Children in Hong Kong pose with Zakumi, the 2010 World Cup mascot, before Sunday's final.
Editor's note: CNN's Hong Kong Operations Supervisor Matthew Booth watched every match of the World Cup on television in the wee small hours of the night from a cruel South-East Asian time zone. At the time of writing he is still married, still employed and not noticeably crazier than he was at the beginning.
Hong Kong (CNN) - It's finally over. The Spaniards have paraded their new shiny trophy around the stadium.
Across the globe, people have jumped into canals and fountains, weeping men are already regretting reckless tattoos, gushing women are naming their new babies Iniesta, and children are dreaming of the day when they might lift the famous old trophy themselves. Millions of inches of copy are rampaging across printing machines for thousands of publications worldwide, and I am at the end of my road.