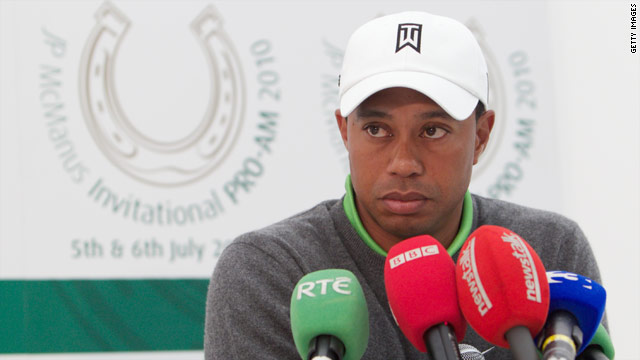 Tiger Woods hardly seemed to relish his appearance in front of the media in Ireland.
Dismissive, terse, often rude and not that interested in offering any decent insight to what he thinks about his own game and his preparations for St Andrews.
Welcome back to Europe, Tiger.
Woods' first press conference in the region after his disgraceful approach to his personal life blew up in his face was a prickly affair. He was at a charity event for the very wealthy Irish businessman J.P. McManus in Limerick, southwestern Ireland.
It was a completely different man than the one we have seen cuddling up to the U.S. media. A week before the British Open celebrates its 150th  anniversary, it looks like Tiger's lost all interest in being someone close to even likeable in front of the media.
So much for the new Tiger. Remember that? A warmer and more approachable guy. Not even close to it.
Or maybe that's just his approach on this side of the pond after most of the U.S. golf media has given him one big hug since he returned at The Masters in April. He did not look comfortable in Limerick. He knew there would a little less warmth in the press conference.
His preparations in his bid for a fourth British Open crown and third at St Andrews will see home fly back home to see his kids and then arrive in Scotland on Sunday or Monday to get ready for the event.
He was so dismissive at times and terse in response to questions, that frankly, weren't that personal. For me, it appeared he really isn't that juiced up for the third major championship of the year.
He tried to say otherwise with the big revelation that his game was "getting better." Ok thanks, now I know why the bookmakers have him as favorite to win the British Open this year.
Well, not really - the world number one is favorite merely because of his performances in 2000 and 2005, where he won by five and eight strokes respectively.
His mind's not on it, his heart's not in it - and there is a long way to go before Tiger gets the hunger back, if ever he does.
And based on his attitude towards the people who share his thoughts with the wider world, I look forward to someone who cares winning at St Andrews so we can enjoy an insightful and robust press conference.