This week, for the first time since November 2003, Roger Federer gets third billing among the musketeers at the top of men's tennis.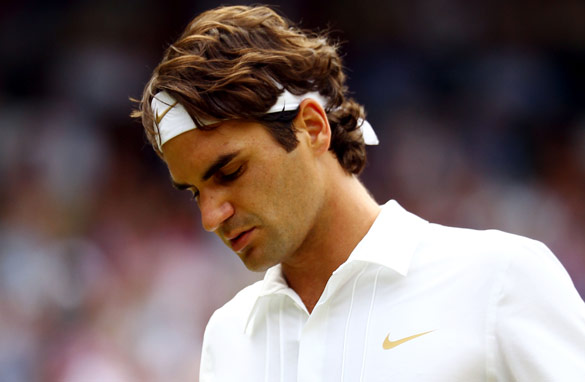 After losing at the quarterfinal stages of the last two Grand Slams Roger Federer is now world number three.
The 28-year-old Swiss, who was already second in the rankings to Rafael Nadal prior to Wimbledon, even though he was seeded first because of his grass-court pedigree, is now the third-best player in the world according to the ATP rankings, having leapfrogged by Novak Djokovic.
The question is now, is Roger on a permanent downward spiral or is this just a blip on the resume of a player who's still the highest achiever the game of tennis has ever known?
Inevitably, in the immediate aftermath of his quarterfinal loss to Tomas Berdych at Wimbledon, the critics and experts - who'd once elevated Federer to demi-god status - were talking decline.
He's not the player he once was, as seen by his increasing vulnerability on court. He's not the man he once was – I mean, look how he came up with previously unmentioned excuses for his early exit (his back, his leg) and how petulant he was when asked who might win the title in his stead. His snippy answer: "I don't care."
Yes, not so easy now you're not invincible is it, Rog, so the criticism goes. Welcome to the real world.
Even people closer to the mountain top than those media critics seem to be tacitly writing him off. Andy Murray said that his semifinal conqueror Nadal is his favorite player to watch, while tennis legend John McEnroe believes that Rafa - the reigning French and Wimbledon champion - can go on to hold all four Grand Slam titles at the same time. That would mean the Spaniard taking Juan Martin Del Potro's U.S. Open crown in September, and Federer's Australian Open title in January.
The unspoken message is that the fear factor of facing Federer is gone. The Terminator has been permanently usurped by the Terminator 2.
Well, I would like to disagree. Peaks and troughs are part of sport, and not necessarily evidence of a terminal decline. After all, even at only 24 years old, Nadal has suffered undulations in his own career, largely due to his suspect knees. And where did he go less than 24 hours after winning his second Wimbledon? Off to a clinic near Bilbao in Spain to have some maintenance work done on said knees.
So, you see, one wrong tweak and the door could be open again for Federer, who, as we can gather from his post-match petulance, is still hungry, somewhat angry at his own failings, and will be primed to barge right through and take what he believes is rightfully his again.
And he is still the automatic choice to fill Rafa's shoes in the event of such an injury absence, because the other contenders are not yet in Roger's league.
Djokovic has service issues and is beset by indecision that makes him mentally fragile. Murray is finding the pursuit of his first slam title, let alone Britain's first men's Wimbledon crown since 1936, an increasingly heavy cross to bear. And from fifth-ranked Robin Soderling downwards we're looking at freak winners who might claim a slam if all the planets align, but who otherwise would be a dangerous punt for all but the most profligate of gamblers.
So Fed is the next best thing to Rafa by default if nothing else.
Therefore, I believe that while he's in a slump, and while he's dropped to third in the world, there are more Grand Slam titles in him yet. Not least of all on the hardcourts of the U.S. Open where Nadal is still an underachiever. Granted, Federer will never reach the dizzy heights of domination he once knew, but one step down from invincible still ain't half-bad is it?