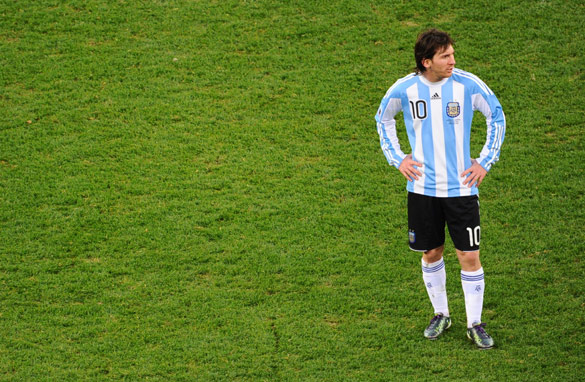 Lionel Messi was forced to play in a deeper role for Argentina than he does for his club Barcelona. (AFP/Getty Images)
This World Cup was supposed to belong to the superstars: Lionel Messi, Cristiano Ronaldo and Wayne Rooney. All three players had fantastic campaigns with their respective clubs and everyone expected their goals to light up this tournament. They did, after all, score a combined 110 goals over the last season.
However, as the semifinals loom large here in South Africa, all three superstars have flown home and will have to watch the final games on television. Between them, they played 13 games and scored just one goal.
So what went wrong? Well, it is impossible to generalize and use the same explanation for every player, so let's take it one case at a time.
Messi scored 43 goals in 49 games for Spanish champions Barcelona, but at the World Cup he couldn't hit the back of the net once. Now I believe Leo was actually unlucky not to get his name on the score sheet. He had 15 shots on target, but found some inspired goalkeepers in his way. The major problem, though, was that he was asked to do too much.
At Barcelona, he normally receives the ball relatively close to the area, while with Argentina, he often had to pick it up on the halfway line. It was common to see Messi tracking back and having to be the playmaker and then at the same time trying to finish off the moves himself. It was just too much.
The reigning World Player of the Year wasted too much energy in areas which should have been occupied by midfielders, not a forward like him. As a result, most of his shots on target were either from outside the area (11 out of 15), or after he had made a 30 or 40-yard run. He is a phenomenon, but he is not superman.
Cristiano Ronaldo's problem was one of isolation. Carlos Queiroz decided to play his star player in a forward role, and ultimately paid the price. Ronaldo did score in this World Cup, but so did practically the whole side against North Korea. It was his first goal in 16 months for the national team, so it really does show that he is not being used in the correct manner.
I noticed that every time Cristiano got the ball, he had no-one around him to pass it to. Portugal were playing in a counter-attacking style and often left the Real Madrid star on his own up front hoping for him to miraculously dribble past two or three players and score.
Some Portuguese fans have told me recently they feel Ronaldo doesn't try hard enough when he plays for his country. I disagree. I believe he actually tries too hard, but is often stranded on his own up front, with a mountain to climb every single time he touches the ball.
And what about Rooney? Wayne didn't look 100 percent fit and he lacked the sharpness that we have come to expect from the Englishman. In four games, he managed only six shots on target, and that is simply not good enough.
Besides fitness, Rooney can also blame a lack of service from the midfielders. Neither Frank Lampard nor Steven Gerrard provided enough passes to the front man, especially around the box. I saw the Manchester United star run around aimlessly too often, desperately looking to get the ball. And he did not see enough of it.
So with Wayne, Cristiano and Leo all back home, it's time for the teams that are left to shine. I still tip the Netherlands to win it all. Let's see if my prediction turns out to be true…