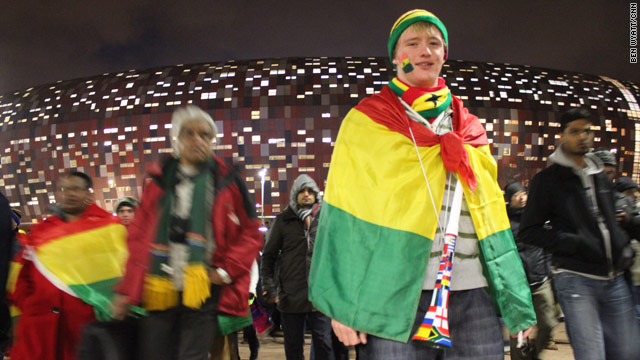 Ghana's World Cup dream is over but a large number of white South Africans turned out to support the west Africans.
Ever since Pele boldly predicted that an African side would win the World Cup before the end of the 20th century, the race was underway for a side from the continent to deliver.
African sides clearly missed the deadline the Brazilian legend set, but with the World Cup being held on the African continent for the first time in 2010 there was renewed hope the dream could be realized.
Not only had a record six teams from the continent qualified - after hosts South Africa had their place safeguarded - African talent had arguably never been richer or to be found in more depth.
But with Asamoah Gyan's extra-time penalty miss in Ghana's quarterfinal game against Uruguay, the chance to seal an historic berth in the final four for an African side went begging; a continent's hopes were dashed.
The Black Star striker showed immense courage to regather his game to score Ghana's first penalty - in what would ultimately prove a doomed - shoot out to decide the tie.
And Ghana too had performed above expectations to progress from their group and get so close to the semifinals despite being deprived of star player Michael Essien along with both captain Stephen Appiah and midfielder Sulley Muntari struggling with fitness.
Of the other African teams questions must be asked. Bafana Bafana united an often fractious nation with good performances in two of their three group games, but ultimately, one of the highest paid coaches on the planet (Carlos Alberto Parreira) became the first to steer a host side out of the World Cup before the knockout stages.
Cameroon finished bottom of their group, with no points from three games and were the first team dumped out of the cup. Samuel Eto'o - who was the official face of the 2010 tournament, and a recent winner of a treble of trophies with club side Inter Milan - surely hoped for more.
Algeria had performed remarkably to even get to the finals, as winners of an epic qualification struggle with arch-rivals Egypt.
The north Africans gave good accounts of themselves in clashes against England, USA and Slovenia. Unfortunately, for the Desert Foxes the gulf in talent was too much to be bridged, but they had opponents who were far superior on paper worried for a while.
Ivory Coast, in typical fashion for the Elephants of late, failed to produce on the big stage. Talisman Didier Drogba was hampered with injury and the west Africans were drawn in a difficult group, but they were unable to upset the odds in any of their matches despite the wealth of experience coach Sven Goran Eriksson brought to the side.
Last but not least are Nigeria. Poor performances and a hat-full of missed chances saw Aiyegbeni Yakubu et al stumble out of a tournament they had only qualified for by the skin of their teeth.
To add salt to the wounds of the once proud Super Eagles, Nigeria's president Goodluck Jonathan then promptly disbanded the national team for two years in response to their poor showing.
A crazy move that does not make good headlines of African football and will surely incur the wrath of FIFA - who deplore government interference in the beautiful game - as well as the millions of soccer mad fans at home.
All-in-all, Ghana aside, there is still work to been done by African nations to turn the undoubted talent available to the various national sides into tangible progress on the world stage.
However, one success that should be remembered from the 2010 event is how people of all races joined in support of a soccer team.
It sounds so simple, but to see white South Africans waving Ghana flags and cheering on a team from west Africa in a location that only 15 years ago lived under strict apartheid shows that any dream has the potential to come true.