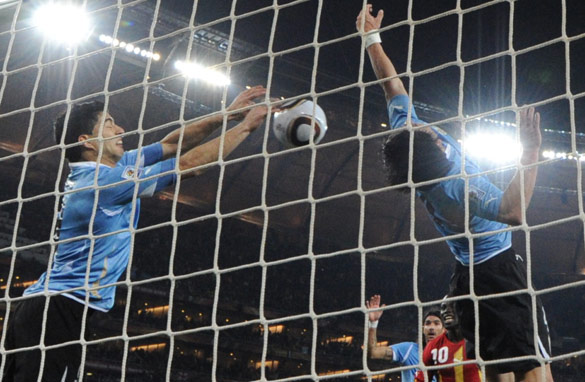 Luis Suarez, left, uses his arms to deny Ghana a dramatic late winner on Friday night. (AFP/Getty Images)
Cheating was rewarded in spectacular fashion during Uruguay's World Cup quarterfinal victory over Ghana, and football should consider changing its rules to stop it happening again.
Down the years, we have seen plenty of players handle the ball to stop it going over the line, but the difference with Luis Suarez's transgression was its timing.
It was in the dying seconds of extra-time and there was no time for the subsequent red card to affect Uruguay's chances. If Suarez hadn't used his hands to block Dominic Adiyiah's header, Ghana would have become the first African country ever to reach a World Cup semifinal.
Suarez was sent off. Asamoah Gyan missed the resulting spot-kick and Uruguay went on to win the penalty shootout.
In rugby union, if an infringement by the defending team stops a certain try, then it is awarded anyway. The attacking side gets the points on the board, instead of a penalty kick which they might miss.
There is a similar rule in basketball. Maybe football should consider a change too? Looking at the Suarez case, who could argue against the fairness of Ghana being awarded a goal instead of a penalty kick?
The ball was going in. The only thing that stopped it was the Uruguayan's hand – a part of the body that should never play a part in football, unless you're the goalkeeper.
Suarez has joked about how he is now his country's back-up goalie, and there is something a little disturbing about how much he is relishing his role as Uruguay's hero. Instead, he should feel guilty for being Ghana's villain and denying them a place in African sporting history.
However, I would not go as far as to say this was the new "Hand of God." Diego Maradona's cheating in 1986 was cynical. He had time to know that he was doing something illegal, but he did it anyway. Suarez's handball was far more instinctive. He had almost no time to react.
But he could have been a bit more humble about it - and maybe the International Football Association Board, the sport's rule-makers, should consider a change when they meet in Wales later this month.